Discourse V1.0 Next Month
In January I wrote about The Road to Discourse 1.0, and I mentioned that we planned to reach version 1 in "the next few months". That time has come. I'm pleased to announce that we will leave beta and officially release Discourse V1.0 next month, sometime in July 2014.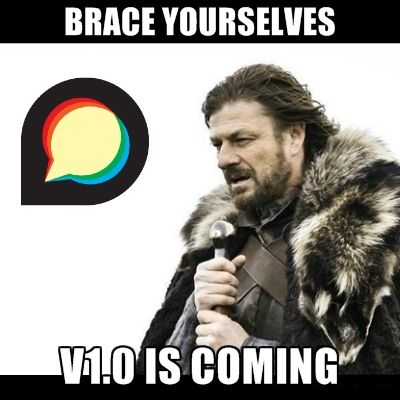 We're crossing the last target feature off our list for V1 this week, which happens to be automatic promotion of users to trust level 3.
I'm incredibly proud of all the work we've done to herd Discourse towards being a stable, mature open source discussion platform that works great for most of the communities, customers, and users we talk to. Here's a partial list of just what we consider to be "major" feature work we completed since January:
Roll up repeated notifications on the same topic or PM.
Allow selecting and acting on groups of topics together to recategorize, close, delete etcetera in bulk.
groups icon on private categories to make this clearer
Suppress category definitions a bit more
"Welcome to Discourse" as default pinned topic for all installations
Allow newish users with no posts or 1 post to delete themselves
"Read Only" mode for forum maintenance
Admin web UI for import/export of all Discourse data
Improved login guidance throughout for anonymous users
"Dismiss Unread" (change topic state to regular) on unread tab and "Dismiss New" (manually set last visit date) on new tab
Notify owner when the category (or title!) is edited on their topic
Notify people when someone links to their topic/topic via an internal link in the right gutter sidebar.
Alert users when they're about to post a necro to an old topic
Live updates for likes and edits
Revised, simplified /categories page
Topic summary links show real HTML title and source site
Allow admins to transfer or take ownership of a post*
Integrate digest email selection of "best" topics and /top page criteria
Simple and clear upgrade page at /admin/docker
Fix the "enormous number of links" problem in the right gutter
E-Z themer plus UI for it, to style your Discourse without touching any CSS
New local avatars (replace gravatar for privacy, performance, etc)
Post read/unread live visual state tracking via blue dot at upper right of each post
Expanding options on click for topic progress / navigation bar, go to arbitrary post
Dismissable top site intro banner with Banner Topics
Badging and achievements*
View IP geolocation and info for admins*
Wiki posts that can be edited by any user with at least trust level 1*
Batch inviting of users via file upload*
User invites can include group membership
Click to expand posts hidden by the community
The items with an asterisk* were generously contributed by the community. As long as this list is, I'm sure I again forgot to mention something the Discourse community helped us improve or add in the first half of 2014. Thank you.
Right now we're in a lockdown phase where we try not to add any new features unless we absolutely have to. We're hunkering down to eliminate the last bugs and polish everything up before our first non-beta release.
What will change after V1.0 is released in July? We're still discussing that, but here's what we know so far:
We will have two branches: stable and master. Stable will increment versions somewhat slowly, and master will continue to be the firehose of the latest live changes.
There will be "release notes" for each stable release that document what changed since the last stable release. We will also have a bit more discipline in labeling checkins to make this easier.
Discourse is, and will always be, 100% open source. But for those who want worry-free business and enterprise hosting from the source of the project, discourse.org will update with clearer guidance on pricing for our hosting solution.
What we don't want to do is slow down. We will continue to build and improve as fast as we can to make Discourse the best open source discussion platform in the world.
We're 1½ years into a 10 year plan to improve discussion on the Internet, and we love what we're working on.
We hope you love it too.