How Katalon Increased Community Engagement with Discourse Hosting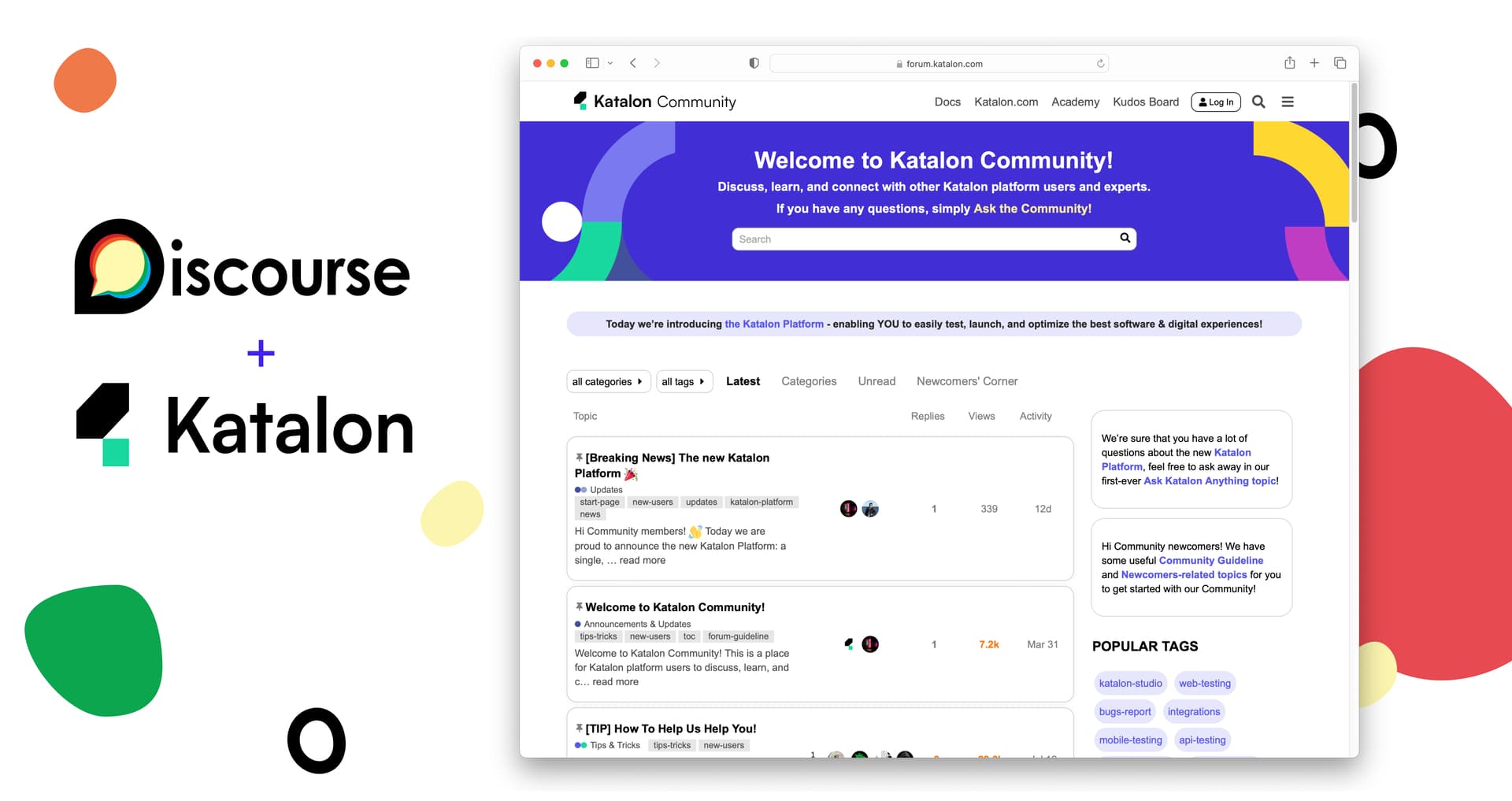 Every day, customers are building, growing, and running successful communities powered by Discourse. Today, we're highlighting one of them who improved how their company engages with their external community by upgrading to Discourse hosting.
We had the opportunity to speak with Sara Leslie who heads up the community and education team of Katalon
Who is Katalon?
Katalon provides testing solutions that can help teams of all sizes at different levels of testing maturity. Their first public software release was in 2016. Their mission is to help teams build better software faster, through practical, cohesive and innovative testing tools.
Building a more engaged community
Their community mission is "to build a thriving community which provides valuable resources for Katalon customers, practitioners, partners and developers by fostering product expertise through collaboration and self-help." With that mission in mind Sara knew that self-hosting an older version of Discourse wasn't going to meet their needs. Katalon needed an upgrade so she went in search of a platform that could help them better support their growth roadmap. She didn't have to look far.
Upgrading from Self-Hosting to Enterprise Discourse hosting
After conducting a vendor platform analysis Sara said "We looked at a number of different platforms and I have to say every platform has its own advantages and offerings. The decision really depends on requirements, goals, infrastructure and budget and Discourse was absolutely the best platform for our needs."
We had to ask what was it about Discourse that made them stick with us? The biggest deciding factors were our customer service and our product offering.
When it comes to Discourse customer service Sara found "Customer Support has been exceptional. The team is very patient and knowledgeable, they take the time to research issues and provide relevant solutions. Our team really appreciates all the personal attention, and should I say it - the fact that we don't get the typical response of 'contact professional services' for everything. The Discourse community has a lot of community experts and is also very helpful."
Sara also found that as a vendor Discourse was extremely responsive and cared not only about Katalon as a customer but also about their end users. "We found that you were very customer centric."
With our Enterprise hosting services, Sara appreciated the platform flexibility and that the software was open source. "Being hosted…and having all the current features is a tremendous help to the team and company." She added "There is no one that offers this level of customization."
The Result?
Since they upgraded to Discourse's Enterprise hosting service they have seen an increase in engagement with their existing members. Activity levels and sentiment have also improved. Their posts are increasing in frequency and Sara expressed "it is so exciting to see our community respond so positively".
Sara fully expects community engagement to continue increasing as they plan to integrate more of the features offered by Discourse.
Tl;dr summary
Katalon wanted to achieve their growth goals and found that moving from a self-hosted instance of an older version of Discourse to our Enterprise Discourse hosting solution increased user engagement and allows them more opportunities to continue to build a thriving community.