Why SailPoint Chose Discourse's Professional Services to lead their Redesign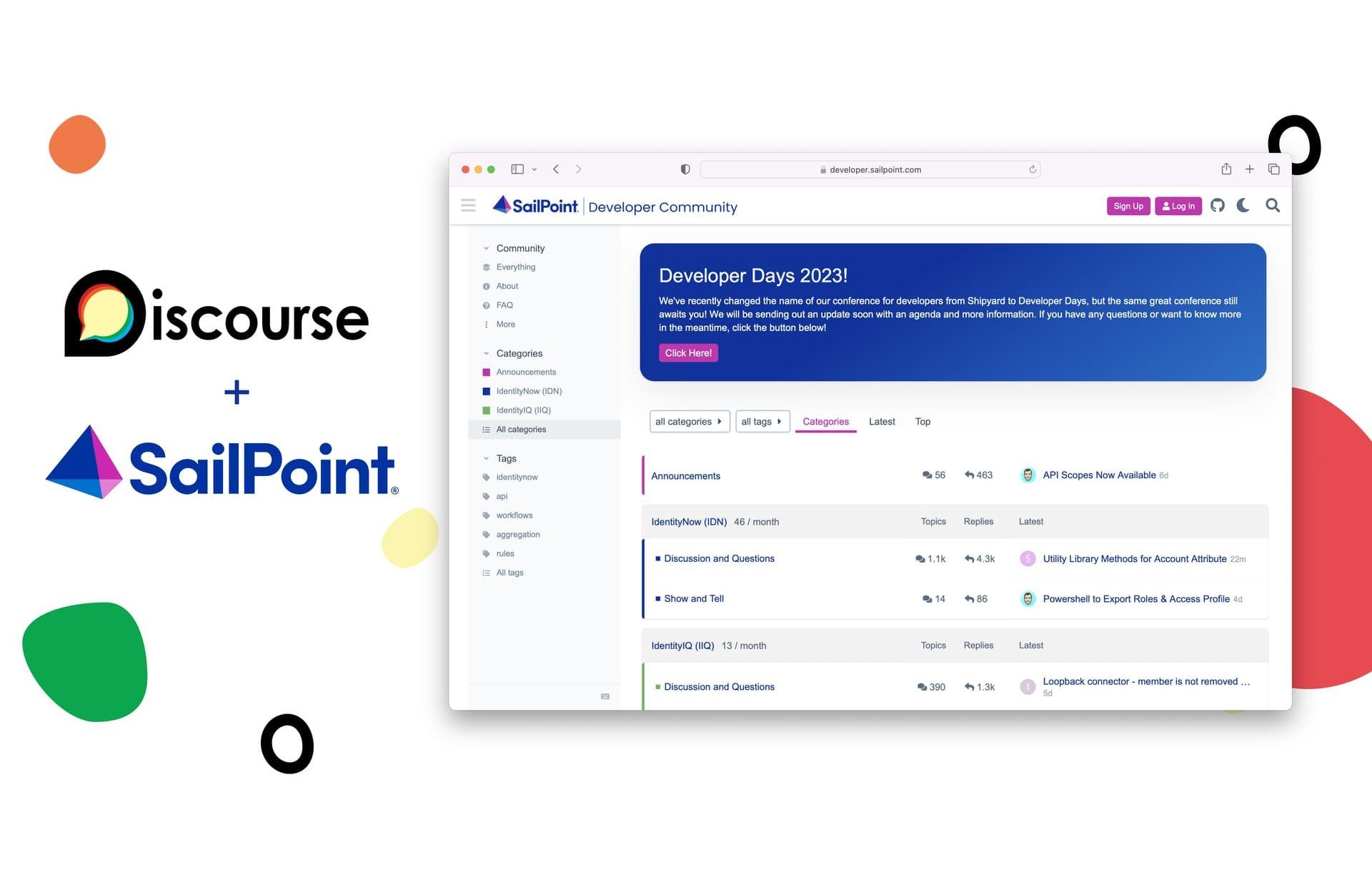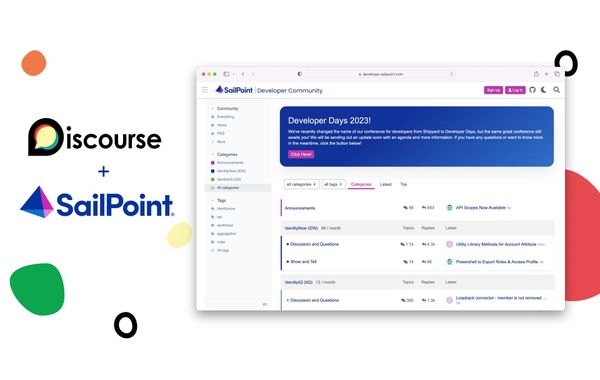 Discourse offers a variety of professional services to our Enterprise hosted customers.
We had the opportunity to collaborate with SailPoint on their developer community redesign. We spoke with Jordan Violet, Head of Developer Relations at SailPoint about their experience with using Discourse and with our design team.
Who is SailPoint?
SailPoint was founded in 2005 to deliver innovative solutions that address some of the world's most dynamic security issues. That passion and commitment for solving their customers' pressing security and identity challenges guide them to this day. Their mission is to discover, secure, and manage every type of identity.
Choosing Discourse
We asked Jordan what originally brought SailPoint to Discourse. He responded "We are currently building a community of identity governance developers who are looking to build on SailPoint platforms and products, extending capabilities that come out of the box. We have incredibly intelligent IT professionals and software engineers, both of which we consider our developers, looking to build with our solutions."
On why they decided to choose Discourse Jordan replied "We decided to go with Discourse because it was evident that Discourse is focused on the core value proposition of online discussions…From an admin side, Discourse gave us more tools and configurations than we could have imagined to fine-tune the platform to our needs. We also appreciated that the platform was open source, and again, as developers, we would be able to contribute should we ever want to improve a core feature. Beyond the APIs, the tooling, and the docs, we wanted to give our developers a centralized, focused place to work with other builders like themselves. After interviewing a subset of our users and being developers ourselves, we knew very quickly that we wanted a tool that focused on doing one job well: community."
He continued by saying "Having grown up spending countless hours in traditional phpBB forums myself, I knew we wanted something that captured the original spirit of online discussions but with modern amenities. Not only that, but it was also a requirement that the platform we use be extensible so, much like our own users, we could extend the platform as we saw fit.
Last but not least, naturally, was the Discourse meta community itself—the community of other users also using Discourse was a major attraction for us. We weren't interested in a jack of all trades, master-of-none platform but a platform that did one thing well, and for us, that was Discourse."
Building their Developer Community
SailPoint had been using Discourse for their developer community for one and a half years before reaching out to us for our design services.  Jordan stated "Once we felt the Discourse platform was well-established in the experience we have been building for our users, only then did we look to create a design that more closely matched the rest of our developer.sailpoint.com experience."
Discourse's in-house design team took on the project to help SailPoint match the existing design pattern to their developer community.
Working with Discourse
Now that the project is complete we asked about what the experience working with our team was like, Jordan replied "The first thought that comes to mind is efficiency! Discourse, as I mentioned before, is deeply knowledgeable of their own platform. As soon as we documented what we wanted to do, they assigned teams to us for each work-stream…they were efficient! They helped us articulate our own asks by pairing our request with their platform knowledge and came up with a solution we couldn't have ideated ourselves in the short timeframe they did. We look at working with Discourse's professional services team as a way to augment our own team."

SailPoint's Developer Community
When we asked about how their developer community has changed and grown since using Discourse we were happily surprised to hear that they had started their developer community with us. Jordan continued by saying "some of the feedback we get most often within the developer community is that it feels like a formal place of discussion—that they know where to go, what they are looking for, how to find it, and how to interact. Something else we're always happy to hear is that our users enjoy their experience when authoring new topics and responses. While Discourse seems to get so many things right, we are focused on the discussion component of the product, and it is something that our users have shown so much love for."
At Discourse our goal is to provide the best platform for communities to have civilized discussion.  Beyond the platform we also offer design and engineering professional services to take on projects independently or in partnership with our customers' in-house teams so community managers can focus on what they do best.