How Lawrence Systems Built a Thriving Community using Discourse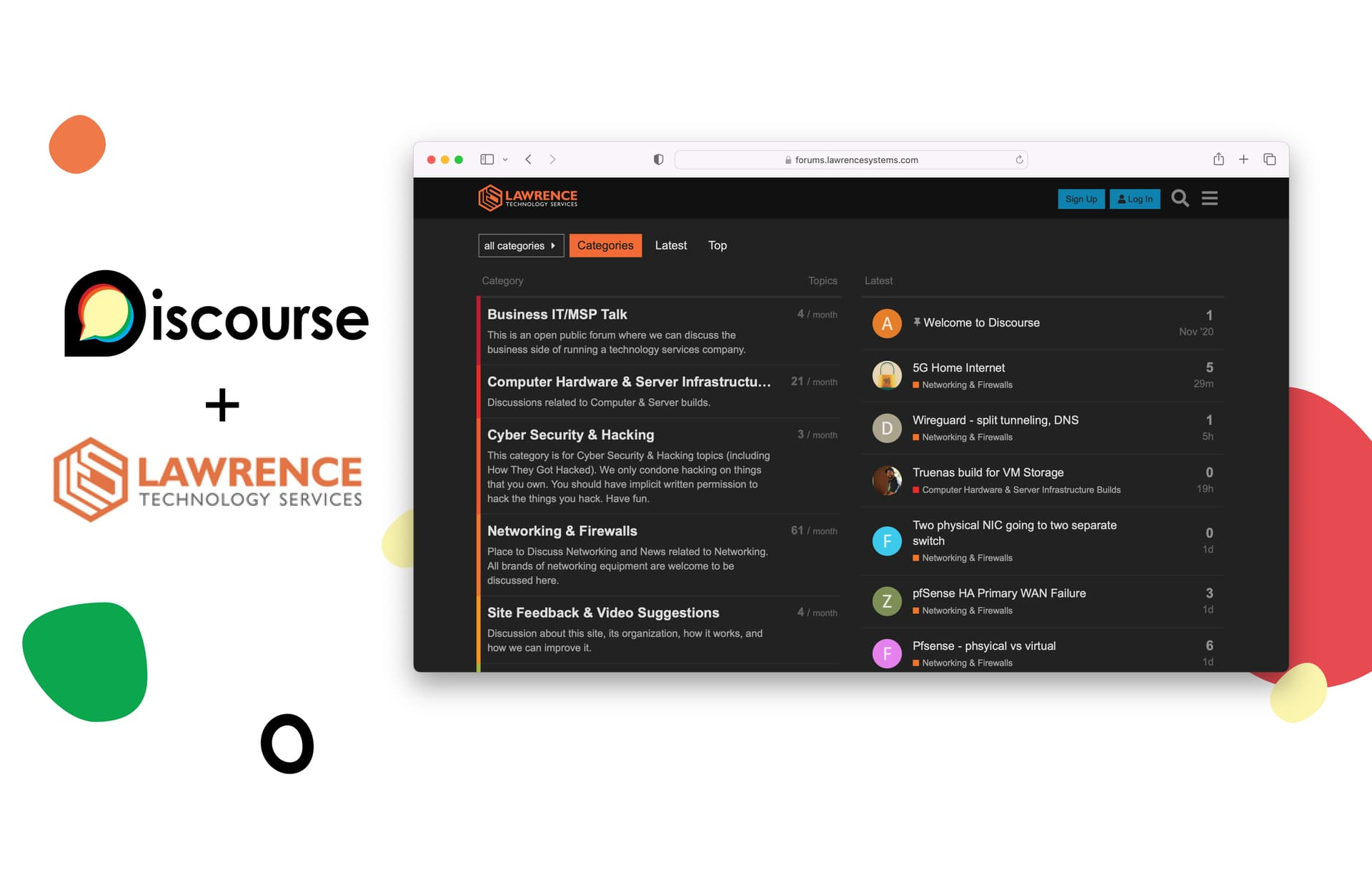 Discourse allows you to build the community the way you want and it allows you very strong control over that community and I think you grow a better community.
The internet has long served as a virtual gathering place where individuals seeking answers and information naturally gravitate towards forming communities. Through the evolution of technology, online forums have emerged as vital platforms that facilitate and enhance this sense of community. One such example is the Lawrence Systems forum. Born of a need to provide more in depth information than the comments section of his popular Youtube channel allowed.
We had the opportunity to speak with Tom Lawrence from Lawrence Systems, a technology services company specializing in providing IT services and solutions that is also a Youtube channel primarily focused on providing educational content and tutorials related to technology, networking, cybersecurity, and IT infrastructure for small business and enterprise, and last but not least, a thriving Discourse forum.
Starting a forum
Tom would describe his Youtube channel Lawrence Systems as "focused more on small business or even enterprise technology like storage solutions and virtualisation not the stuff that retail consumers are watching" His channel currently has ~52M views in over 1700 videos over the last 6 years.
It was sometime around 2019 that Tom found that "people want to engage on a more technical level with me" Before long he was thinking "I probably should have some forums to associate with this and that is what led us to talking about Discourse."
Choosing Discourse by Word of Mouth
Tom was already familiar with forums "I was an admin for a few different open source projects so it goes back to my early days like 2004 and 2005 so phpBB and PHP-NUKE and some of those… but I didn't feel those had a very modern feel, matter of fact they still look the same 10-12 years later."
Tom took his search to his friends and viewers. A friend suggested Discourse (we love word of mouth referrals!) with the review "I use it and I love it".  So Tom decided "why don't I give it a try and because it's like anything I'll just download some code and get this set up and because I did it on the first try and it worked I'm like "that's a good reason to use this"". He continued with "It worked really well and this seems well thought out, very well put together and that is all the way back in the version Discourse had back then and it has also been nice to see over the years, the steady growth and features that have been added, the enhancements that have been added."
Easy Upgrades
While we automatically upgrade our hosted users to any new version of Discourse we also provide one click upgrades to our self-hosted users. It is one of our many features so that any self hosted users can upgrade easily to new versions of Discourse. We were happy to hear Tom mention "The manageability of it and the fact that I've been able to in place upgrade, all of this over the years has been extremely impressive. That is just not common for a lot of software. They don't have good migration paths. This is a big problem I've run into with any open source. They are willing to do the hard work to refactor the code because they realize the foundation needs to be redone and I applaud that work but if you don't have a good migration path for a user, you'll force those users to reevaluate and look at other platforms or just won't upgrade and you leave an insecure version which is the scarier part. Thank you to the people at Discourse for making the migration easy."
You Own Your Data
One of the key factors that drove Tom's choice of forum software is the assurance of data ownership. "I did not  like and still don't like companies that lock you into their system…I wanted something I could control the domain for, control top to bottom. That way I could say this is the forum I'm running and it is always easily indexed" .
Also he's not subject to the whims of a platform owner who may change the rules of engagement on their platform. "We've seen some of these large companies who've gotten so big they can make arbitrary rules that apply to all of us. Having your own forum really makes sense. Discourse allows you to build the community the way you want and it allows you very strong control over that community and I think you grow a better community.  If you go to my channel and then you go to the forums the only reason you go there is because you care about one of the things I've talked about. Perfect it makes us the perfect cohort of a community around a singular or multiple topics I talk about."
Fostering Community Engagement
One of the biggest challenges a community faces is how to engage community members. When we asked about how he fosters engagement in his community it mostly comes down to making sure people are directed to the forum. "Don't dm me on Twitter or any other platform, it doesn't help the community. Ask your question in a public forum because you probably are not the only one to have the problem. I'll answer absolutely in a ritual and I go to my forum everyday to make sure to answer as many questions as possible, as best I can, because then they serve as those write ups that people are looking for to get questions answered which then helps not asking the question again…Discourse has been a good facilitator at being able to find, as you are typing, there is the message "Hey this looks like this forum post over here" This means a lot to me from a standpoint of usability and gets users focused on finding the answer before posting it"
Growing Lawrence Systems
We asked about Tom's future growth plans for Lawrence Systems forums "You know it's kind of just growing organically, and I would say it continues to do the same. It's now embedded as a reference and I have 1700 videos and I've had the forums for the last I don't know, 1500 videos I've made so there is some mention of the forums.. I also do bulk updates of my Youtube channel. Every video has a link. "Hey talk to us on our forums" so actually I see it growing in direct proportion to as  my Youtube grows."
"Let me give you the numbers for daily users well total users 5000 people are on my forums but when you look at it from a monthly and it's getting logged in people 20-25k pageviews a month on average and 123-140k anonymous users so, it starts out small even though there is maybe a 5000 user base but they are all there for one reason and it's to talk about the things I talk about on my channel so it is extremely niche.  I mean, I have a lot of broad topics around enterprise but it isn't talking about the latest Iphone, we're talking about server equipment and server software...I'm impressed that many people and the number of them that log in every day and interact and engage has been pretty amazing"
In conclusion
Overall, Lawrence Systems has set an example for how a company can build a successful community by directing users to their forum and then regularly engaging users with answers to their questions. We are happy that our software helped build their community and our features make using the forum easier for both visitors and administrators.