We're proud to announce that today marks the release of Discourse 1.5! This was a huge release that took us almost 7 months to build:
5× Faster Topic Page
Perhaps the most significant improvement in this release is a dramatic overhaul of our topic page for a 5× speed improvement. That's right, the topic page – the page where most people will spend most of their time in Discourse – is a whopping five times faster!
Some before and after benchmark timings from Robin's detailed blog post:
Large topic, initial visit
| | Desktop | Nexus 7 | Nexus 6p |
| --- | --- | --- | --- |
| Before | 633ms | 4078ms | 1248ms |
| After | 120ms | 636ms | 248ms |
Large topic, repeat visit
| | Desktop | Nexus 7 | Nexus 6p |
| --- | --- | --- | --- |
| Before | 429ms | 2757ms | 710ms |
| After | 69ms | 350ms | 152ms |
For those of you keeping score at home, that is indeed 5× faster on all devices on average, and an incredible 6-8× faster on older Android devices.
Improved Badges
Discourse's badge system is a fun way to teach community members not only how the site works, but also what positive community behaviors we encourage. In this release our Badge system got greater prominence with a much needed visual overhaul, as well as improved long descriptions that better explain what each badge is for.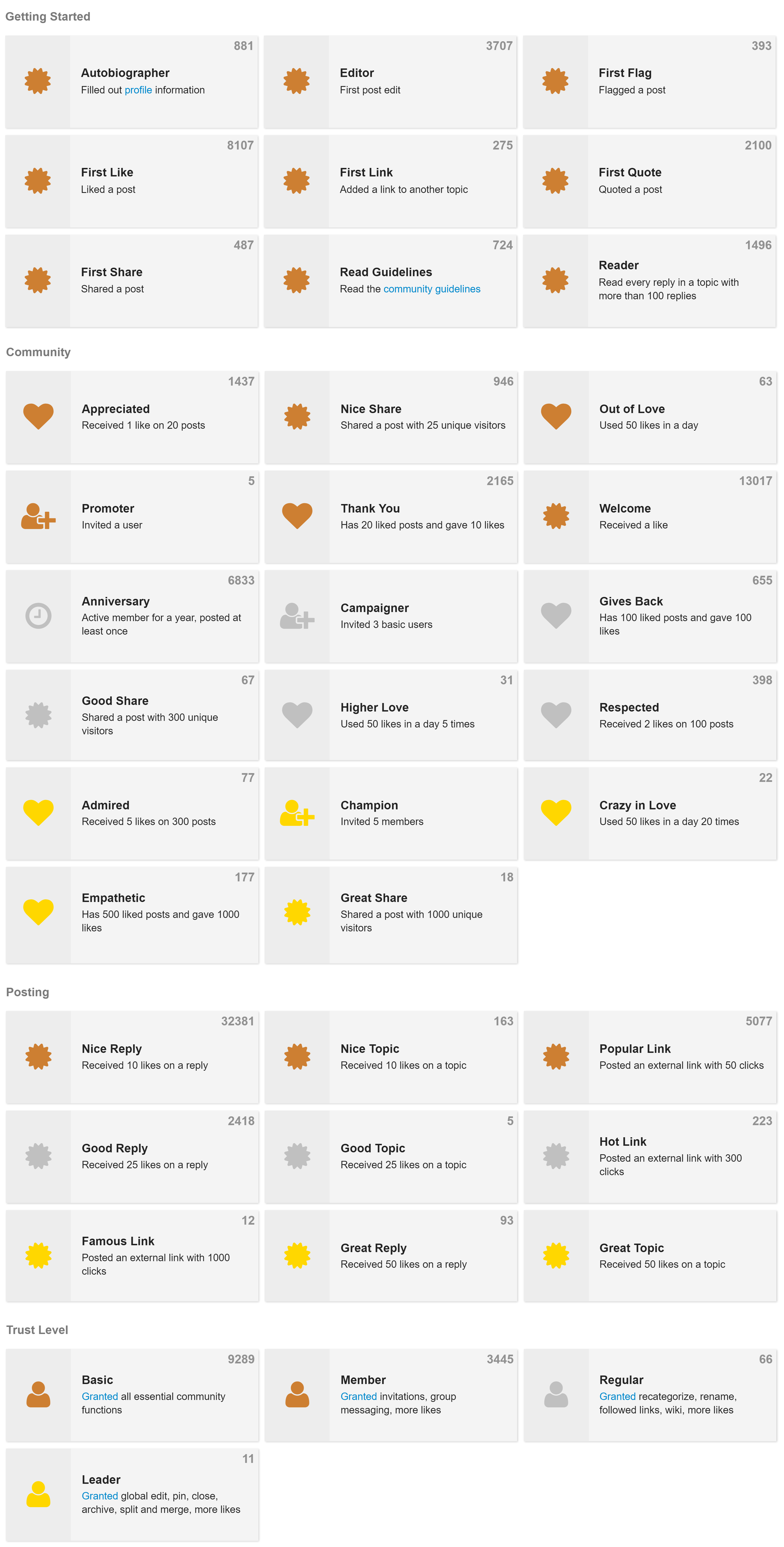 We also introduced a number of new badges to encourage regular use of likes, and liking in return:
Out of Love — Used 50 likes in a day
Appreciated — Received 1 like on 20 posts
Gives Back — has 100 liked posts and gave 100 likes
Higher Love — Used 50 likes in a day 5 times
Respected — Received 2 likes on 100 posts
Crazy in Love — Used 50 likes in a day 20 times
Admired — Received 5 likes on 300 posts
Empathetic — Has 500 liked posts and gave 1000 likes
Share the love!
User Summary Page
While Discourse has top users and top topics, one thing that's been missing is a way to see an individual user's top contributions to the community. But now you can! Just visit the Summary tab on any user page to check out their "greatest hits":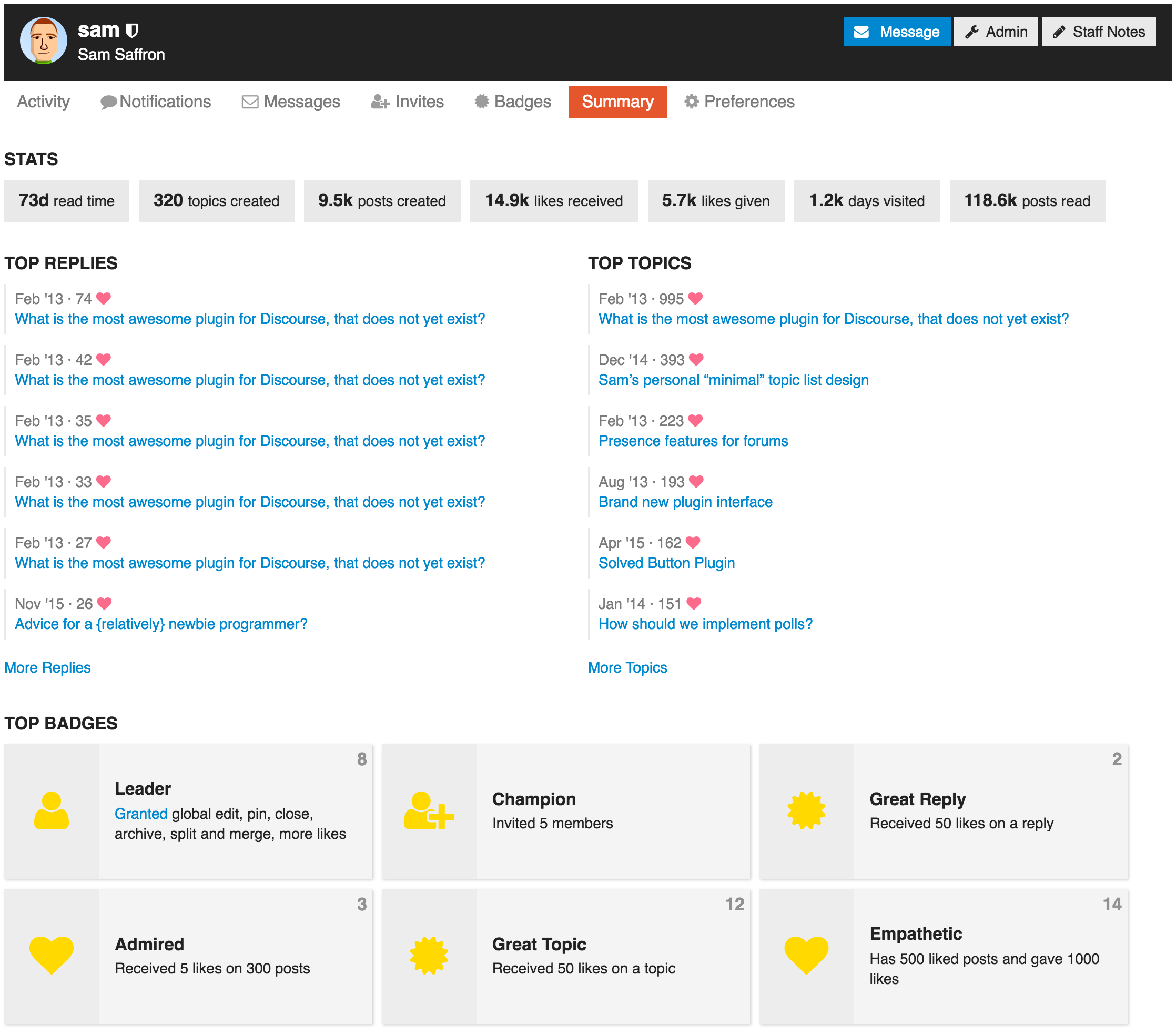 We'll continue to refine and improve these summaries to make them more interesting, and better show off your most interesting contributions to the discussions.
Customize ALL Text and Email Content
This one has been requested forever, and was a ton of work. Did I mention this was a long release cycle? But it was all worth it because you can finally edit any – literally any – text or email content in Discourse and customize it exactly how you want.
Want topics to be "threads"? Users to be "funkatrons"? Like to be "brofist"? Well, Discourse is your huckleberry. Go forth and customize any text you see on the screen, anywhere, in Admin / Customize / Text Content.
Group and Category Mentions
You know how you can type @username to mention someone, and have them get notified, in Discourse? Pretty cool right? Now you can do that very same thing with @groups too, if the group settings allow. Similarly, you can mention #categories to get a handy list of categories and a quick link to any category. (Category mentions don't ever generate any notifications, though, because that would be a little nuts.)
Better Incoming Email Support and Group Private Messaging
One of the primary targets of Discourse is mailing lists. Whenever information is getting stuck in those mailing list private email silos, we think you're better off sharing that information with others.
But there are a few cases where you might not want these emails to be public. One of those use cases is a shared support email inbox. Such as … the one we run at team@discourse.org. We belatedly realized we should be feeding our own incoming support, feedback and sales emails into our Discourse as group private messages that are visible to our entire team.
While we dogfooded this feature over a period of months, we vastly improved our incoming email handling and group private messaging. We also now show additions and removals to private messages directly in the stream, so you can better tell who you're talking to in a private message:

Please see the detailed incoming mail howto Régis put together for more details!
Mobile Editor Toolbar and Preview
Our mobile editor was enhanced to include a toolbar (if your device is large enough to display it, sorry iPhone 4) and a preview button. To show or hide the toolbar, tap the hamburger icon at upper right.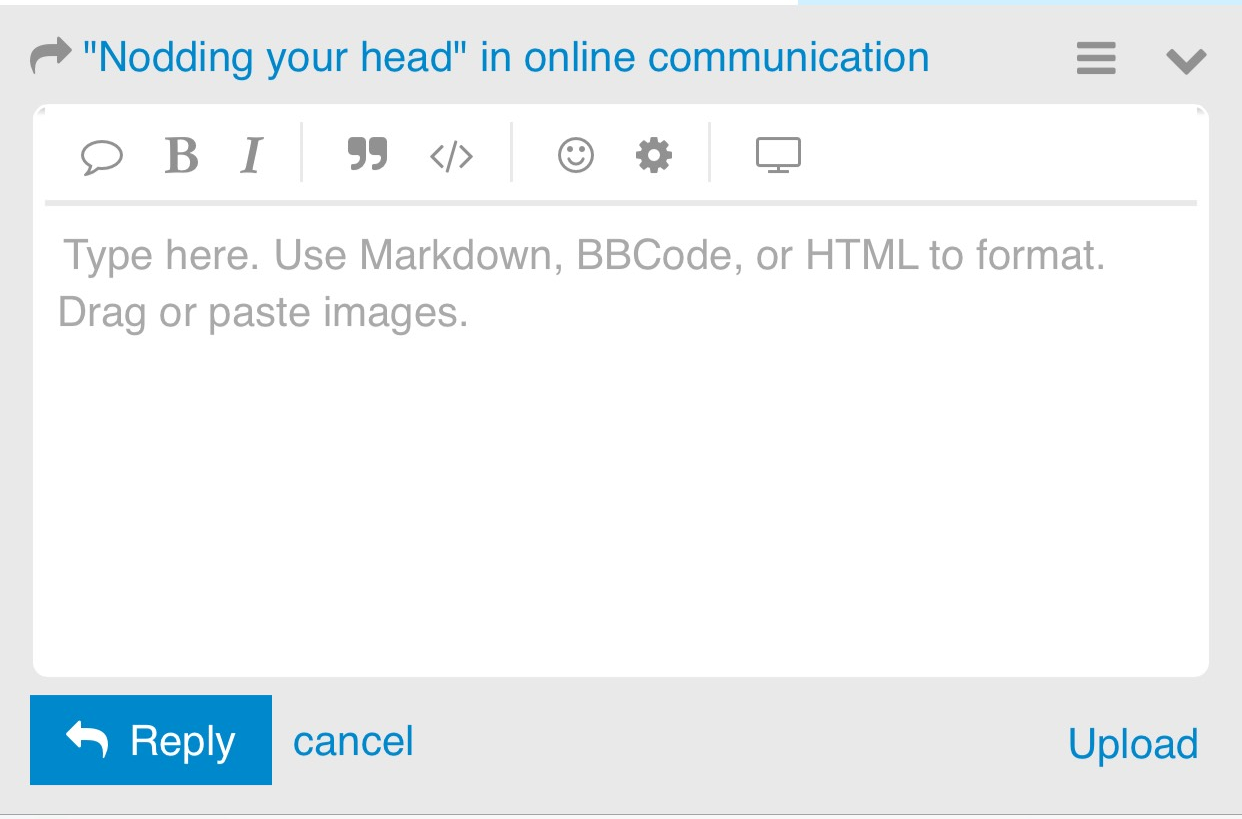 Now while on mobile you can more easily do things like add emoji, turn your post into a private whisper, or see a preview of your post formatting before you reply.
And so much more
These are just the major highlights in 1.5 — there are literally hundreds of other tiny improvements, refinements, and bugfixes in 1.5 that we aren't covering here, but are in the full release notes.
Easy One Click Upgrade
It's safe to say that 1.5 is the best release of Discourse ever. Upgrade your Discourse instance today to get all these great new features via our super easy one click admin updater. It's linked right from your dashboard: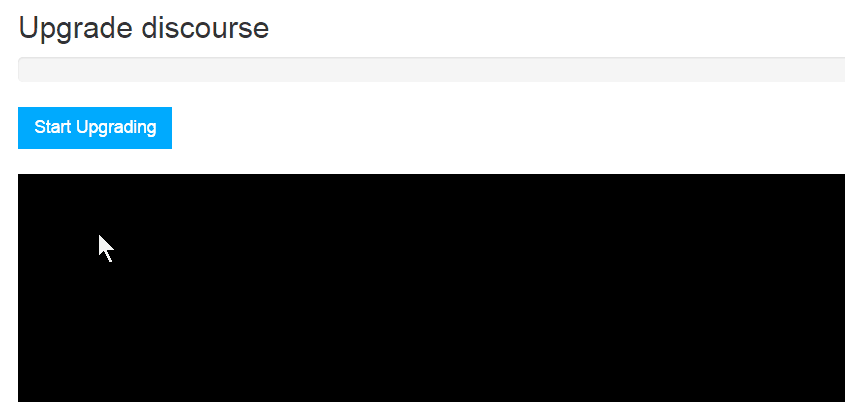 If you don't have a Discourse to upgrade, why not? Install it yourself in under 30 minutes, or get a free 14 day hosting trial!
Thank You
As usual, we'd like to first thank our customers for your support, and the overall Discourse community for their many contributions toward this release -- whether it was in pull requests, feedback on meta.discourse, or our personal favorite, feedback based on participation in your very own Discourse community.
In particular, we'd like to highlight significant pull request contributions in this release from:
For insight into what's coming up in future releases of Discourse, keep an eye on the releases category at meta discourse.