We're thrilled to release Discourse 1.8 today, building on Discourse 1.7 from January.
Narrative Welcome Bot
Perhaps the biggest new feature in this release is our narrative welcome bot, which greets new users with a personal message and offers to interactively "play" the Discourse game with them.
It's a natural extension of our original, static welcome PM. It took us two releases and a lot of effort to build this. Turns out, even simple chatbots are far more challenging to write than you'd think!
If you'd like to customize @discobot user for your site, please do! You can edit the bot's username, full name, avatar, about me and other fields in the same manner you'd edit it for any user. Although you can't (yet) build your own interactive narratives, every single bit of text can be customized as you'd expect from Admin, Customize, Text, too.
User Themes
One of the most persistent requests we heard was for user specific themes -- the ability to select an individual color theme just for you, on your specific device, exactly how you like it. And with this release, now you can:
I'd estimate about 10 to 15 percent of people just plain prefer dark backgrounds. Discourse now ships with both dark and light user themes built in (and the site admins can add as many additional themes as they like); just visit your user preferences and select what you want. Oh yeah, and we restructured the user preferences with sub-tabs so they're simpler to navigate, too.
Stay tuned as we plan to offer a theme design contest in the next few months with prizes!
Topic Timers
We've had auto-closing topics forever, but sometimes a little "time out" to get back on track was all a topic needed, not a permanent close. We also kept hearing sensible requests for other time based actions to take in topics, so we've grouped them all into the new Set Topic Timer… action for staff:
Set a timer to close, open, delete, publish, or just remind yourself about a topic.
New Box Subcategory Style
In order to better support common FAQ and Knowledge Base scenarios in specific categories, we added new subcategory styles of "Boxes" and "Boxes with Featured Topics".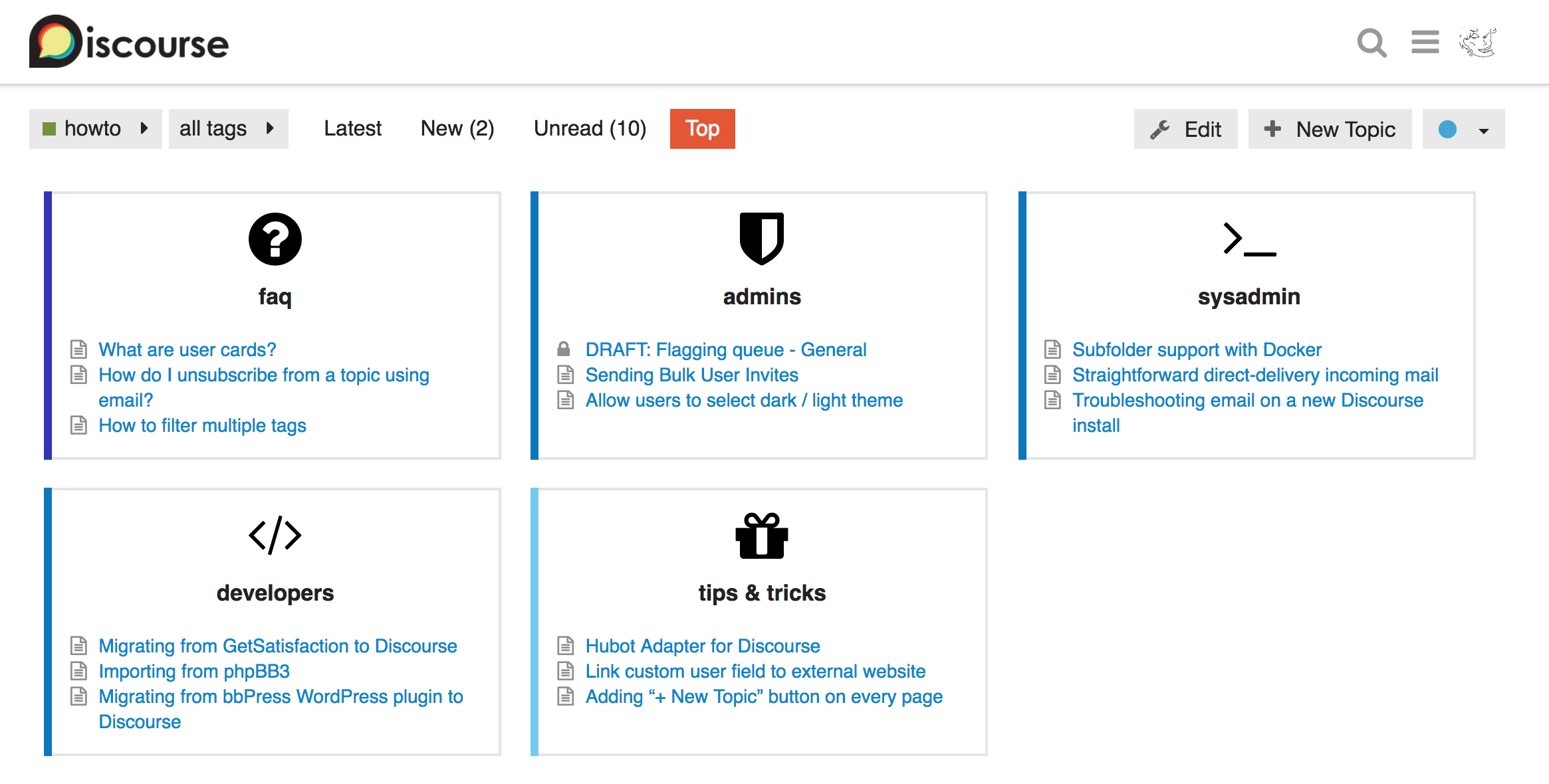 The big boxes may be a little easier to navigate for new users.
New User of the Month Badge
Healthy communities are always growing, and one way to keep growing is to encourage your best new users. In the past we've advised staff to keep an eye on the stats in the users page and remember to periodically send out personal thanks and/or swag to the most avid users. But we felt this was too important to leave as advice, so we've added the New User of the Month badge and email.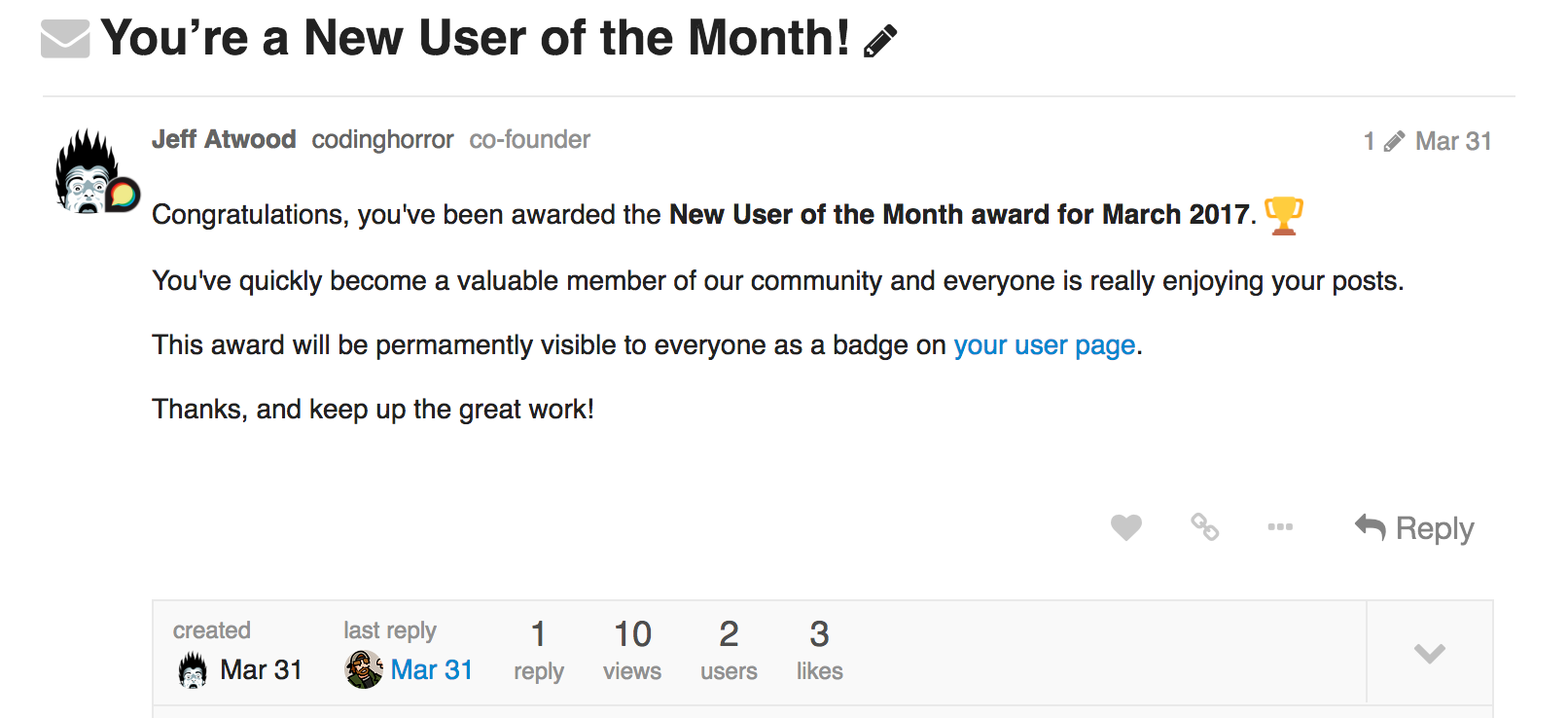 Every month, the new users with the most likes on their posts, weighted by trust level, will be selected for this award. Note that the users must have joined in the current month and have at least two posts in two topics to be eligible.
Better Invite UI
Invitations now have a proper, and prettier, landing page where people you've invited to Discourse can set up their username, full name (when required), and password to taste.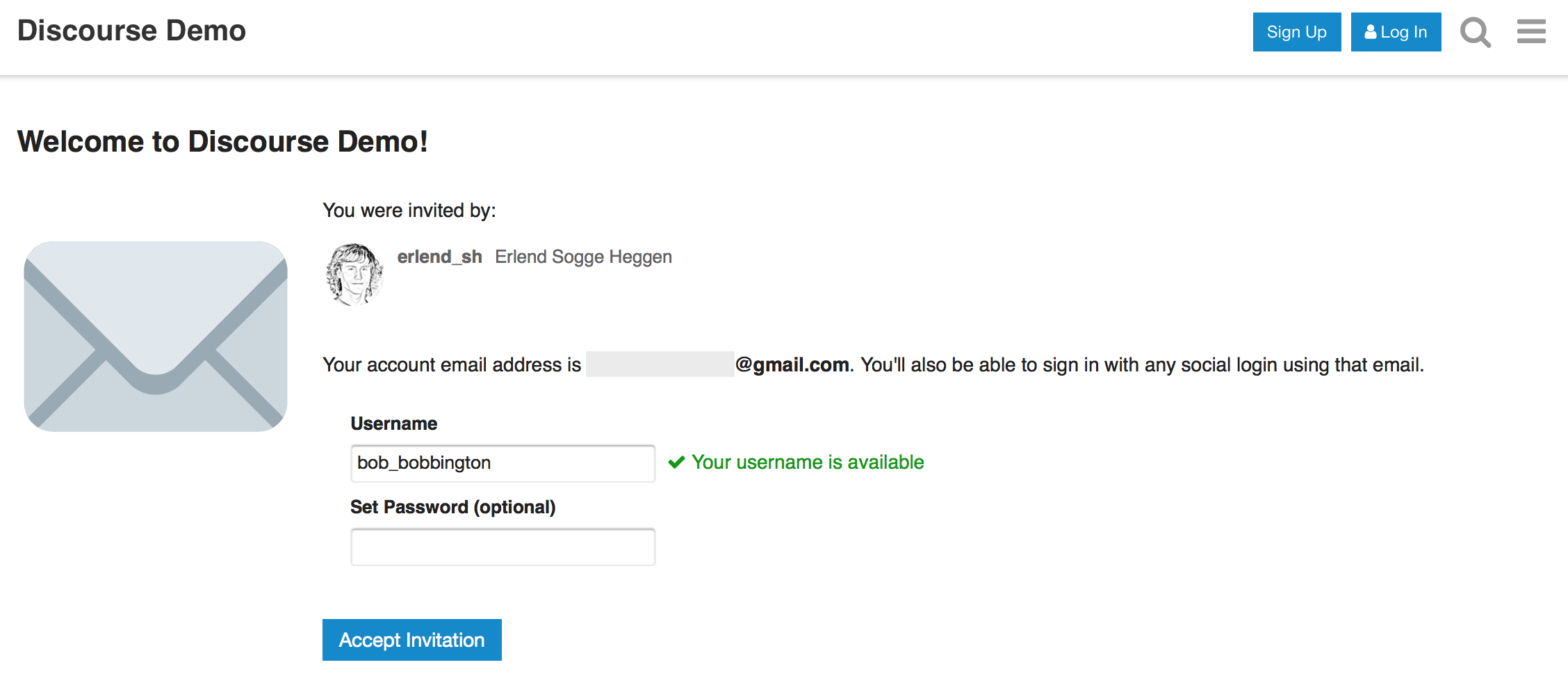 This also highlights who invited you to the party, so to speak, and lets your invitees confirm their arrival.
New Signup Email Actions
We want to make signing up for your Discourse as easy as possible. So after a new user creates an account, we offer easy ways to resend their confirmation mail -- or change that email address if it was incorrect, had a typo in it, or the email didn't arrive after multiple resend attempts.

Private Email Mode
If you run a secure and private Discourse, you may not want any content leaking out. To support this, we've added a new site setting to remove all post and topic content from email. When enabled, you'll still get email notifications as you would expect, but absolutely no content from the topics on your site will be sent out via email. In order to see the content, the user will need to authenticate and log into the website.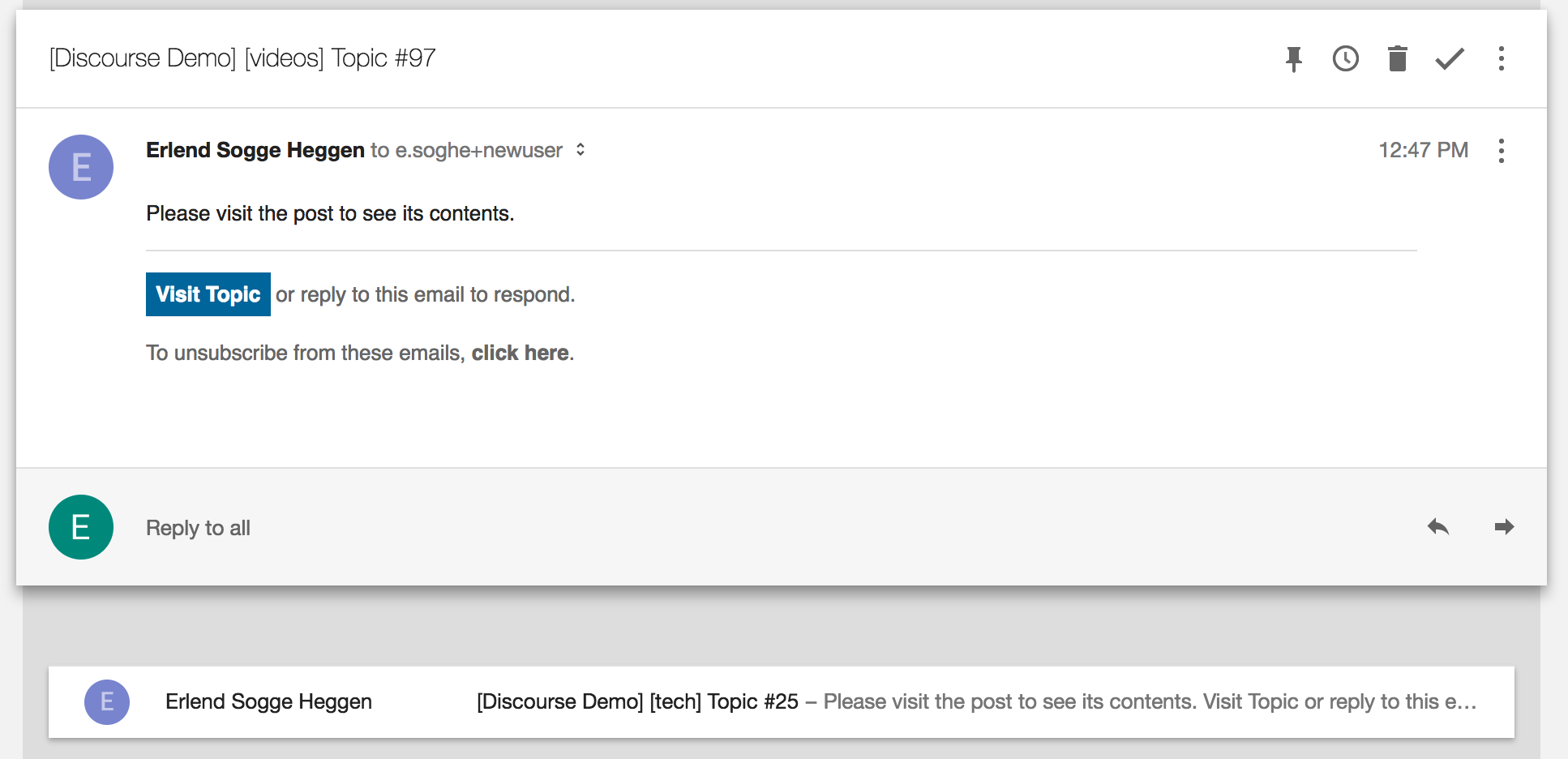 And More!
You may recall we launched a public exploit bounty program at Hacker One as a part of our security policy in January. We're continuing to follow up on any concerns and issues raised, to ensure Discourse is as safe and secure as possible. There was a big chunk of work in 1.8 to completely revamp cookie handling and support per-device cookies, so even if your Discourse database somehow falls into the wrong hands, nothing bad will happen to your community.
These are just highlights of 1.8 — there are literally hundreds of other tiny improvements, refinements, and bugfixes in the full release notes.
Easy One Click Upgrade
In addition to all these these fabulous new features, this is also a major security release -- we urge everyone to upgrade to it as soon as possible. If you are on our hosting, you're already upgraded. Otherwise, upgrading is as easy as clicking the Update button in our built in one click updater linked right from your dashboard: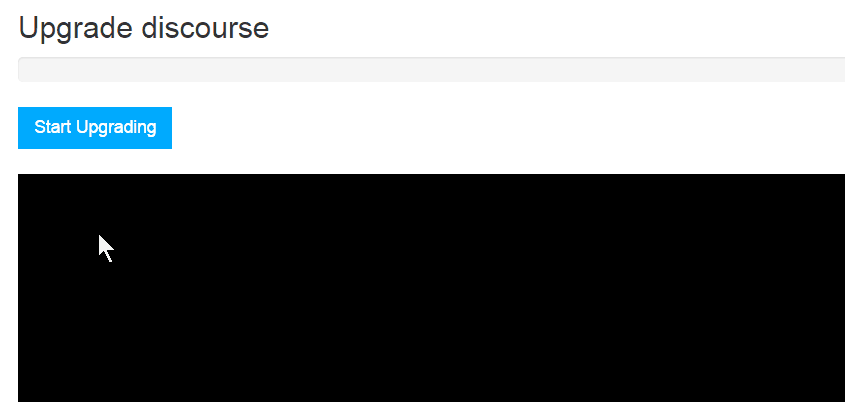 In some upgrade scenarios, you may need to SSH in to update your server. It's just 3 commands:
cd /var/discourse
git pull
./launcher rebuild app

If you don't have a Discourse to upgrade, why not? Install it yourself in under 30 minutes, or get a free 14 day hosting trial!
Thank You
As always, let us first thank our customers for their direct financial support, without which there would be no Discourse project at all.
Any open source project is only as good as its code contributions, and we're lucky enough to have 87 contributors in this release -- 5 more than last time! Thanks for the pull request contributions in this release from:
Also, thanks to the greater Discourse community for their numerous contributions toward this release, including translations in Transifex, and posting support / bug request / feedback topics on meta.discourse. All your suggestions make Discourse better for yourself, and everyone else, too.
As far as we've come with Discourse, there are so many great things left to do. Keep an eye on the releases category at meta discourse to check out our roadmap … we'll see you in Discourse 1.9!