Today we release Discourse 2.6, building on Discourse 2.5 from June. For post 2.0 releases we've chosen a new set of codenames based on the history of human communication; this release is Baudot and represents the invention of the telegraph.
Improved Category Moderation
In this release, category moderators have been granted many more abilities.

In addition to handling the review queue for a category (including flagged posts and topics), category moderators now have the ability to mark topics as solved, close topics, archive topics, move posts between topics, edit the category description, and add staff notices. Category moderators also receive a shield icon on posts within their categories, and have a CSS class on their posts for sites that wish to further customize the style.
Dedicated Category Settings Pages
Categories are one of the primary methods of organization and security in Discourse. There are so many (important!) category level settings that we've finally broken out category settings into their own dedicated pages.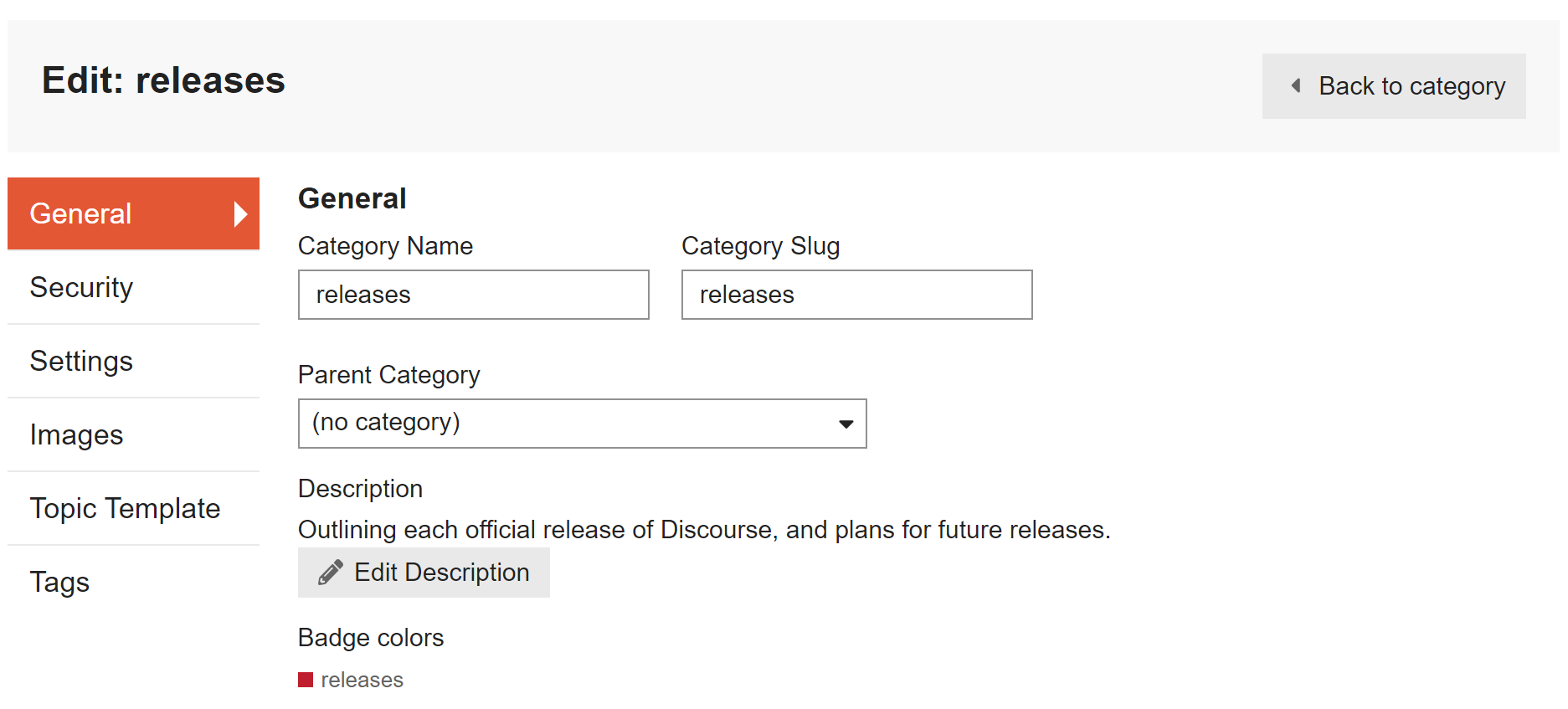 This interface improvement makes it much easier to find, link to, and change category level settings.
Skip New User Tutorial
Are you a Discourse power user? Do you have more "first like" badges than you know what to do with? Tired of thinking someone replied to you when all you got was yet another badge notification? You can now opt out of the new user tutorial, and the "new to Discourse" badges, when you sign up.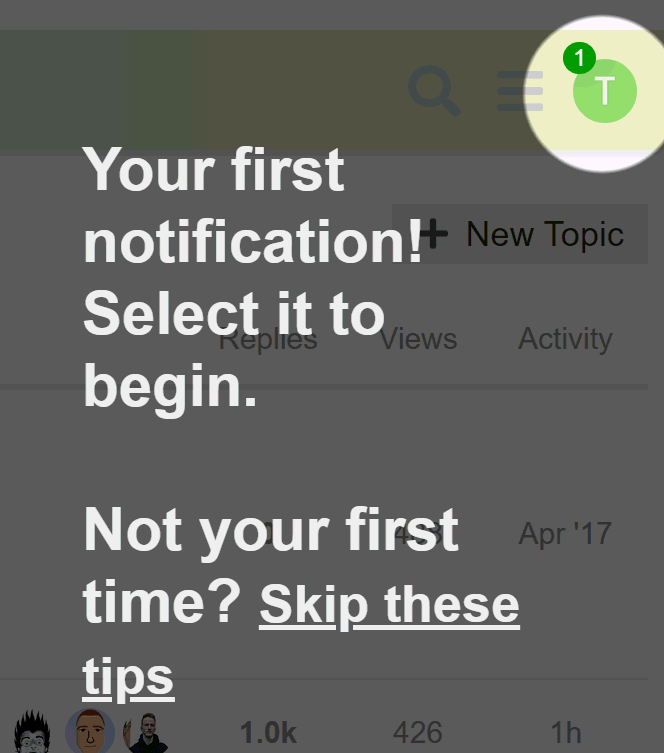 Existing users can enable or disable this via their Skip new user onboarding tips and badges user preference.
Automatic Continuation of Megatopics
We're still not sure megatopics are ultimately healthy for communities, but we also want to provide reasonable support for communities that feel they "need" longer ongoing topics -- though we generally tend to recommend a parallel live chat system as a healthier option for most communities.

Once the maximum reply limit (which defaults to 10,000) is reached, Discourse will now automatically split off a new discussion and link the two discussions together, rather than just closing the discussion.
Slow Mode for Contentious Topics
One feature we've considered for a while now is the ability to enter "slow mode" for contentious topics. In this release, staff has the ability to manually flip on slow mode for a topic via the admin wrench:

Once enabled, slow mode enforces a short (configurable) wait between posts by the same user in busy topics.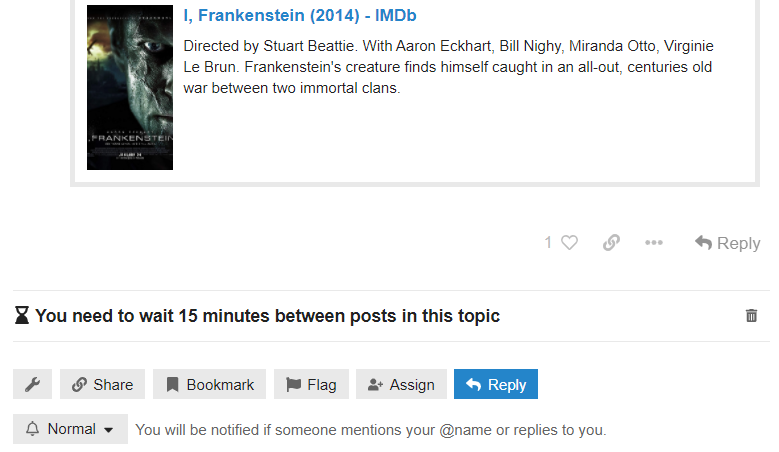 Right now this is a bit of an experiment; we're considering ways to make slow mode automatic depending on topic velocity and number of new users participating in a topic. Thoughtful discussion is always the goal with Discourse, and some topics are inherently more contentious than others.
Font selection, auto dark mode, and WCAG theme
We continue to improve and refine the Discourse Setup Wizard. In this release we've added the ability to select the body and heading fonts from the available options at fonts.google.com.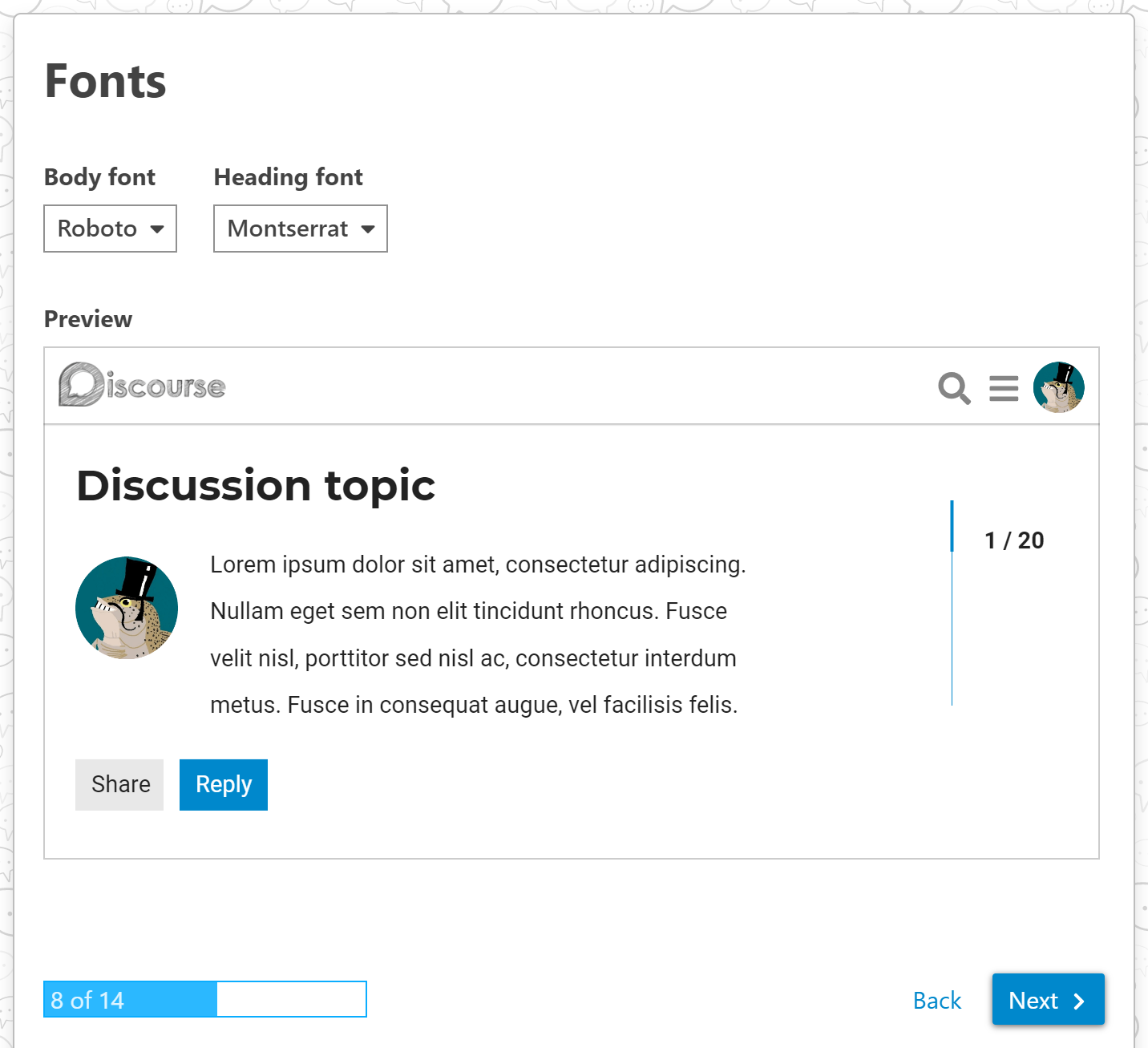 Additionally, we've added support for automatic detection of dark mode via the (new) built in browser and operating system support, and a new WCAG compliant high contrast theme now ships with every copy of Discourse.
Improved Oneboxing
We continue to refine oneboxing -- the process of taking a URL, when posted on a line by itself, and expanding it based on OpenGraph and oEmbed tags in the target page.

In this release, we try to be much more flexible and provide specific, detailed feedback as to why a link may not be oneboxing.
And So Much More!
There's way too much going on in even one Discourse release to cover in a single blog post! View the release-notes tag to get a detailed account of changes in every beta leading up to this release, or see the full release notes.
Easy One Click Upgrade
If you are on our hosting, you're already upgraded. Otherwise, upgrading is as easy as clicking the Update button linked from your Discourse dashboard.

We have a public exploit bounty program at Hacker One as a part of our security policy. We believe in being secure by default at Discourse, and we diligently follow up on any security issues brought to us. As usual, there are several important security fixes in this release, so we urge everyone to upgrade as soon as possible.
If you don't have a Discourse to upgrade, why not? Install it yourself in under 30 minutes, or start an absolutely free, no strings attached 14 day hosting trial today!
Thank You
First and foremost, a huge thanks to our customers. We quite literally could not do this without your direct financial support, and we're proud to give our open source code back to the world with your help.
You can measure the health of any open source project by one simple metric -- its contributors. Thanks for code contributions in this release from:
victorFFFF, Ahmedgagan, Chunhao Zheng, chunhz, fzngagan, angusmcleod , jahan-ggn, Gavin-X, dmcaulay, md-misko, ermolaev, leshik, weallwegot, Enduvar, thorpelawrence, RickyC0626, sbernhard, naineet, siriwatknp, pfaffman, merefield, pavelloz, tricknotes, terrapop, jtsagata, VaperinaDEV, herron9, renato, rogercreagh, buildthomas, mrksu, xronos-i-am, AndreyPnm, etnt93, fauno, wolfgangrittner, dyoung522, danielmai, jelle619, dlecan, jericson, jaydrogers, hyandell, marcinkoziej, mbrrg, AndreaHabib, discoursehosting, bf4, notstephen, haomingw, crydotsnake, MrChrisW, danyang685, TheTripleV, fafa-junhe, nikolai-b, timbocode, pjv, galaktor, marielaSAG, rachel-carvalho, pacharanero, anthonydillon, delarosashane, hawm, alebertacco, ValdikSS, prayagverma, ti0.
Many thanks to the translators who generously contributed their time and effort translating Discourse into dozens of languages for this release.
Discourse is a tool for communities, and we greatly value our own community of people who run Discourse instances while also helping us out by posting support / bug requests / feedback topics on meta.discourse.org to improve Discourse. If you operate or support a Discourse community, we would love to hear from you!
If you're wondering what's coming up for Discourse in version 2.7 and beyond, visit the releases category to get a sneak preview of what we'll be working on next.