The Eight Best Places to Build a Private Community
Building and running private communities is becoming a more important endeavor for creators, cohorts, coaches, companies, and more. People are looking for a safe space to connect with others online, and a private community is one way to accomplish that goal.
You might be ready to start your journey on building a closed group, but what platform might you use? There are a number of options available, and in this article, we're going to share our picks for the top eight private community platforms – for both communities and workplaces.
Platforms for Private Communities
Creators, coaches, and cohorts alike all need a place to gather and connect, and one of the best means is through a closed, private community. Here are our top four picks.
Discourse
Discourse helps you build helpful, thoughtful, respectful communities – both in public and private.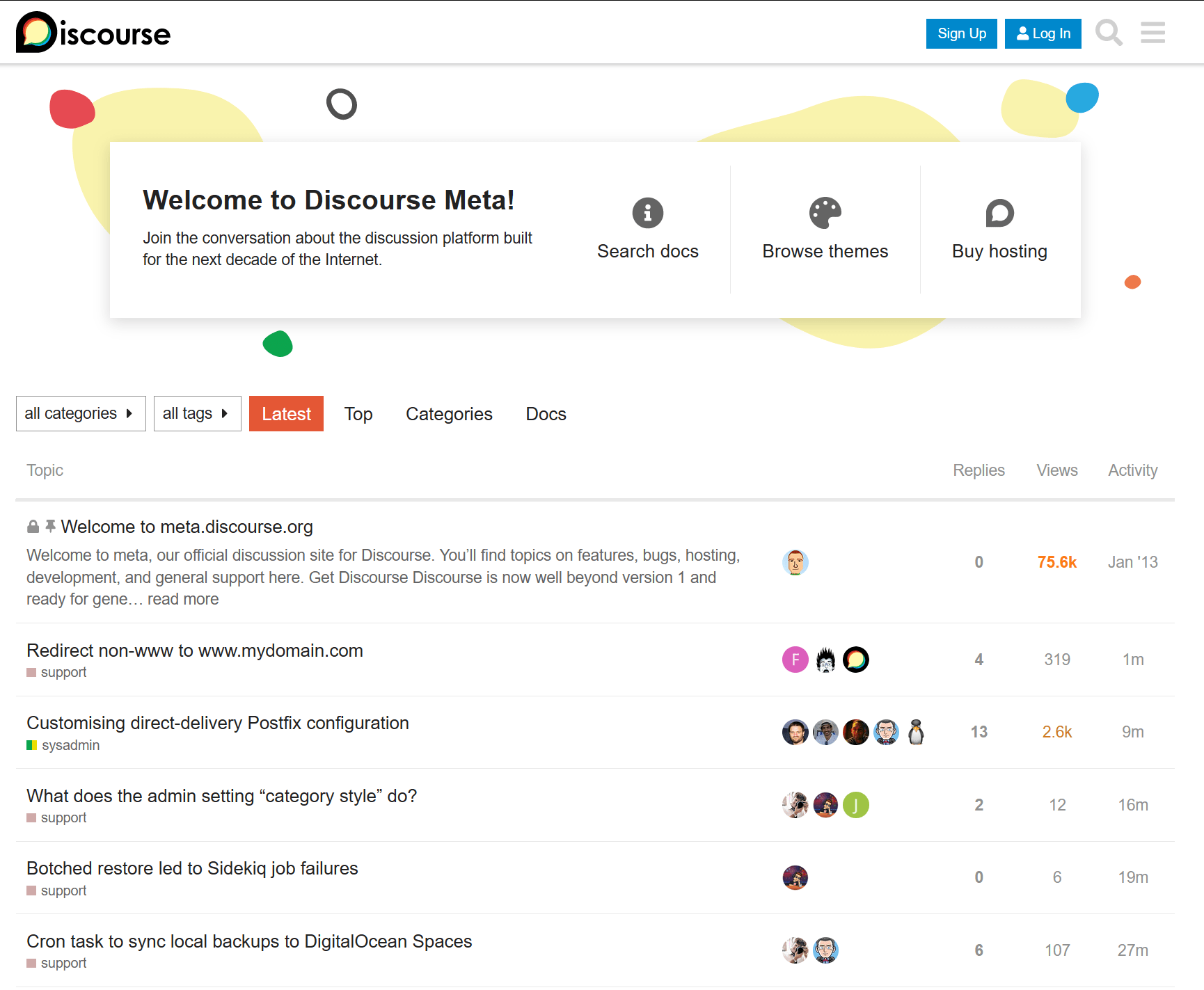 With an Internet full of toxicity and centralized platforms, Discourse is built with civility and decentralization in mind. There are a number of features for private communities, too.
Top 3 Features
Community-led moderation tools to encourge healthy, focused discussion.
Integration with various membership platforms, like Memberful, Patreon, and a native plugin with Stripe.
Multiple private community "modes", from invite-only, public with some private spaces, to paid membership access.
"Discourse is easy to use and allows users to communicate easily and efficiently which is vital. Members can come together in one place and ask questions, answer questions, as well as get help and assistance when needed." - Review on G2
Pricing: Free for self-hosting, $100/mo managed
Circle
Circle is an all-in-one platform for communities and brands, including discussions, members, live streams, chat, events, and memberships.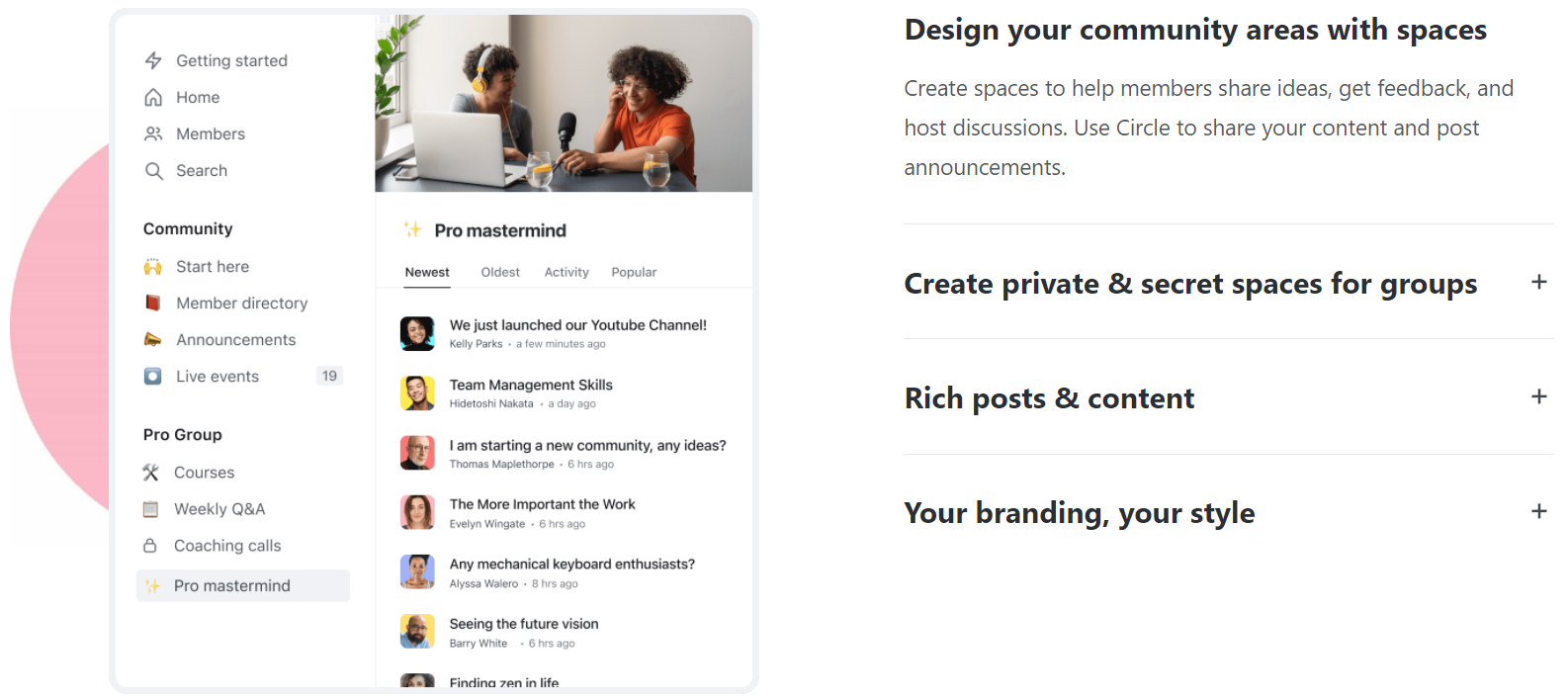 Top 3 Features
Built-in membership platform so members can pay to get access to content.
Sectioned-off, private spaces for groups.
Live video to connect with your community.
Pricing: $39/mo
MightyNetworks
MightyNetworks is a platform designed to build a business powered by community, with community features, live streams, online course capabilities, events, and memberships.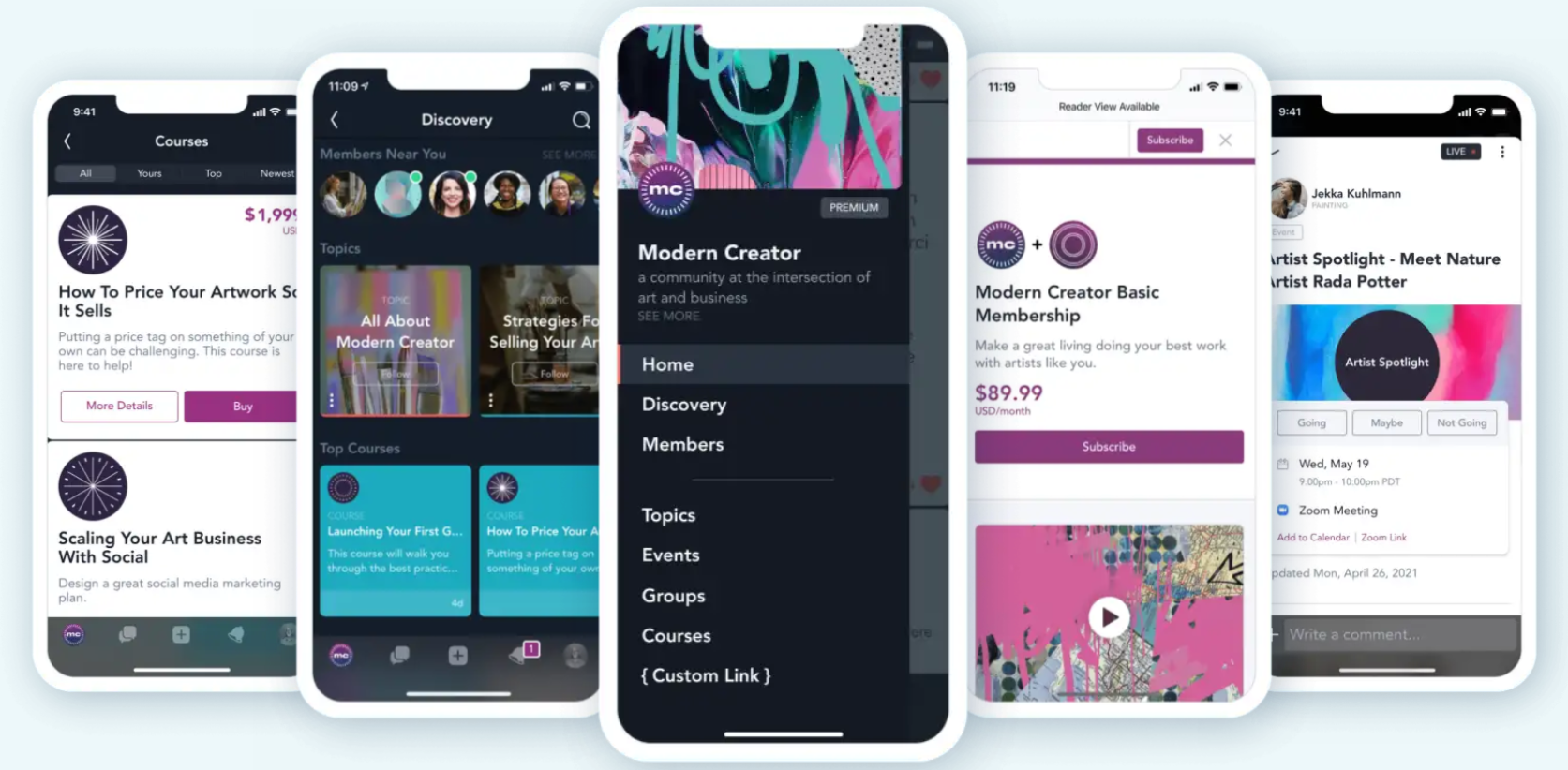 Top 3 Features
Online course platform capabilities.
Built-in events to gather and connect with your group.
Paid memberships so you can build a business off your community.
"The ability to combine Community, Content and Courses [with a] simple and well designed platform makes Mighty Networks a great place to build our business on." - Review on G2
Pricing: $39/mo
Discord
Discord is an invite-only chat platform for gaming and socializing, with audio chats, video calls, live streams, and more.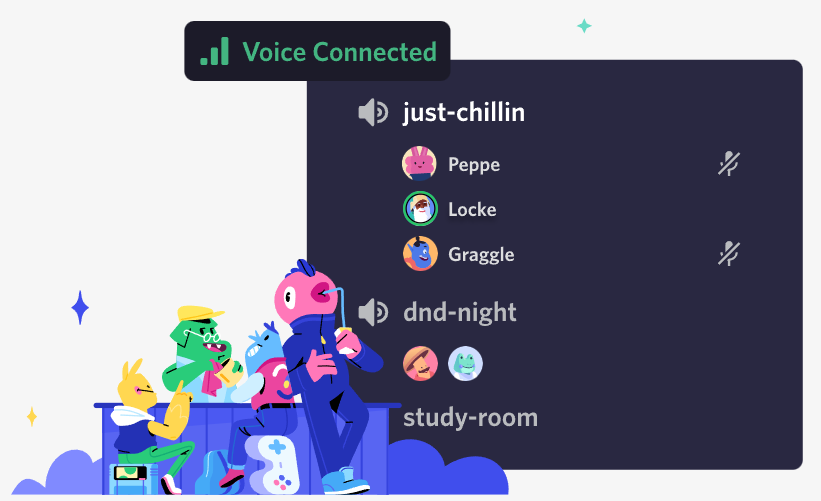 Top 3 Features
Bot integrations, which extend the functionality of Discord.
Patreon-style paid memberships where fans can support your work.
Threaded chats to help organize the chaos of chat just a little bit more.
Pricing: Free
Private Platforms for Workplaces
Companies are communities, too! With remote work becoming the standard for many organizations, the need for a central, private platform for company communications is all the more necessary. Here are our top four picks.
Slack
Slack is a private chat platform designed to be your company's digital headquarters, with private messaging, video calls, and more.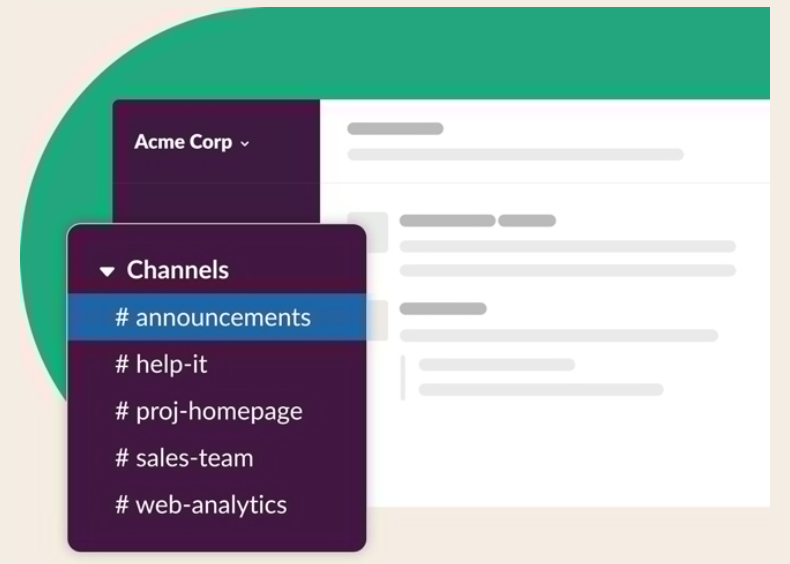 Top 3 Features
Threaded chats to keep conversations on track.
Video calls to connect with coworkers without needing a separate platform.
Integrations with existing workplace platforms like Google Docs, Trello, and more.
Pricing: Free, or $6.67/user/mo
Friday
Friday is a remote team collaboration platform aiming to be your company's intranet, with discussions, directories, and integrations with platforms you already use.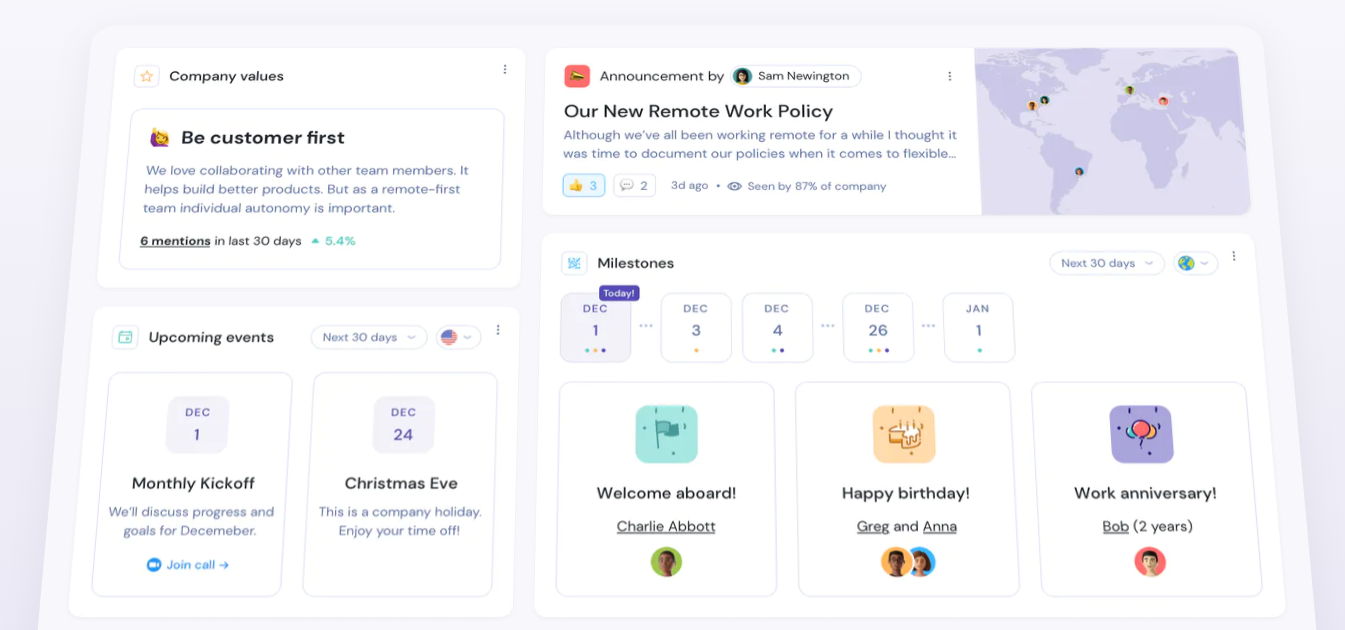 Top 3 Features
Custom company dashboard so you know what's going on -- relevant to you.
Automated employee check-ins so you don't need to waste time on meetings asking for a status update.
Customizable directories to find out more about those you work with.
"I love how easy it is to set up your profile, set up the necessary integrations between both Google & Outlook based accounts. Helps give me a snapshot of my entire day, personal and professional. I also love the automated daily email that serves as an "executive dashboard" to give me a true snapshot of my day. " - Review on G2
Pricing: Free, or $99/mo
Twist
Twist is an asynchronous messaging platform built for remote work and preventing interruptions.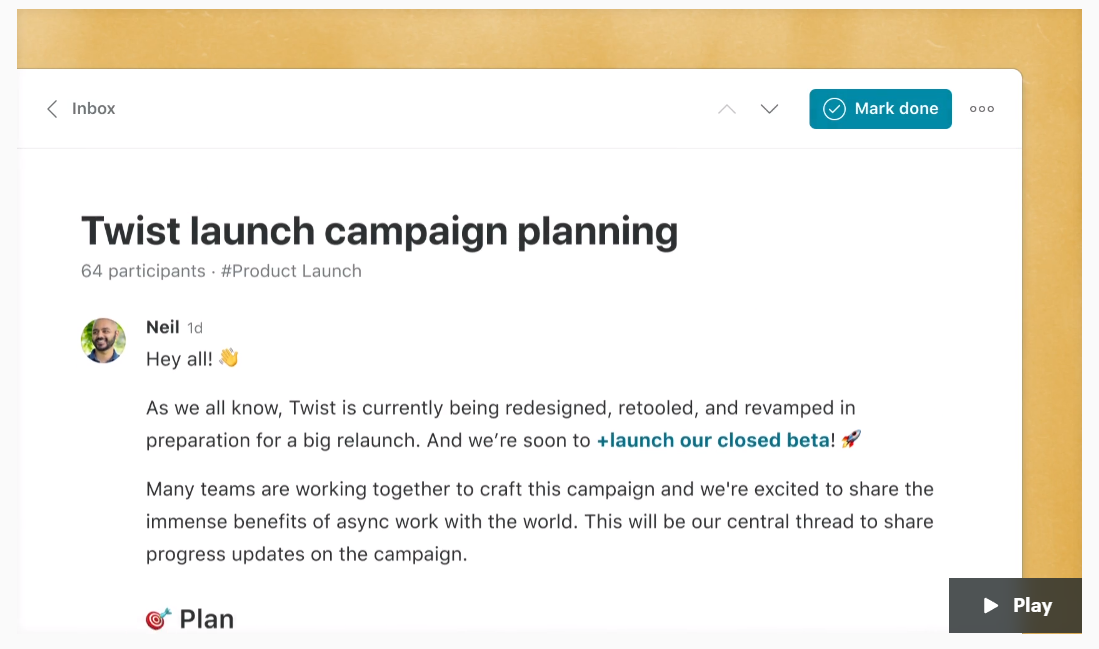 Top 3 Features
Built around asynchronous communication
No presence indicators
Conversation history open to the entire organization (with permission controls)
"Twist is a tool that facilitates communication within the organization. The conversations are structured and there is no way to get lost in the topics. Its interface is intuitive and lightweight, it is easy to set up. " - Review on G2
Pricing: Free, or $5/user/mo
Discourse for Teams
Discourse for Teams helps you build a thoughtful, healthy place to collaborate with your company.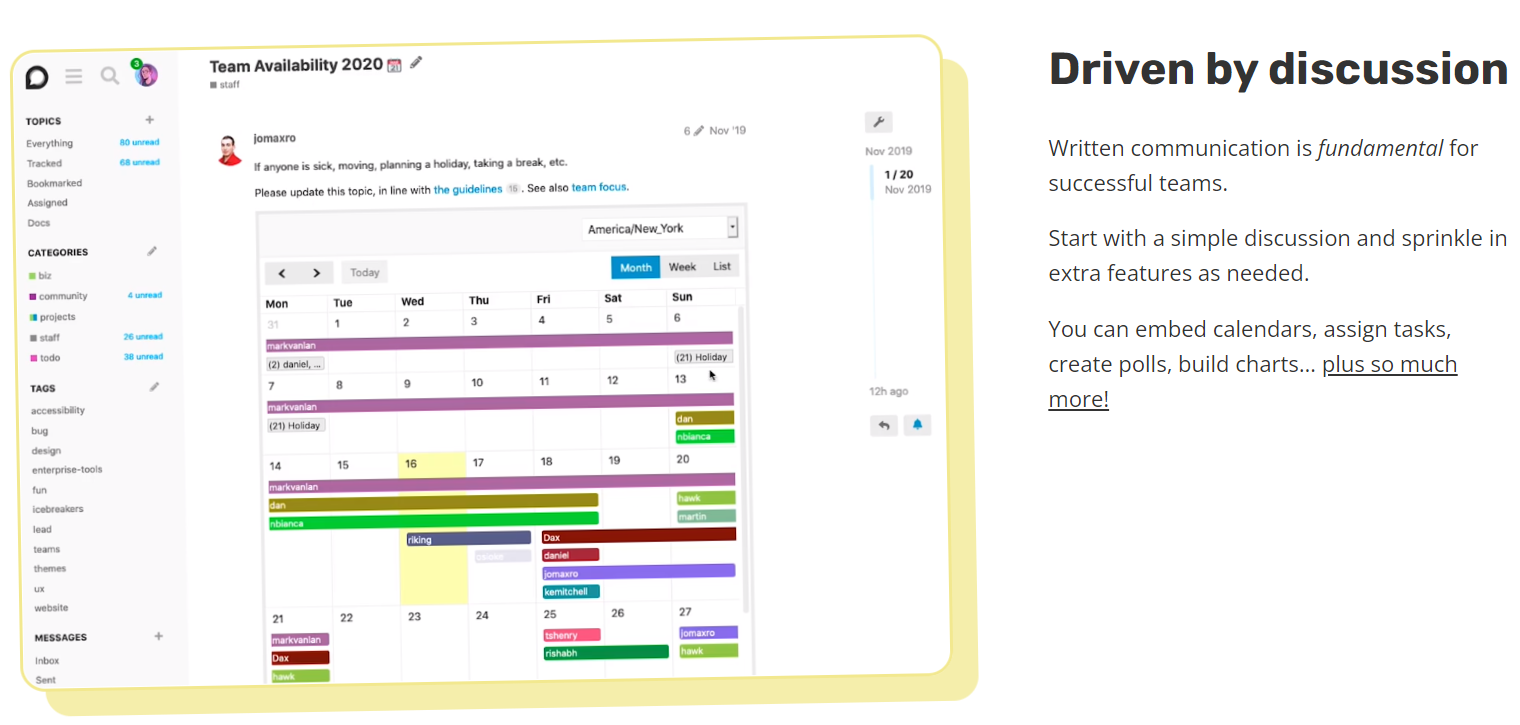 Top 3 Features
Track discussions relevant to you by following categories or tags
Designed around long-form, thoughtful communication instead of short bursts of information.
Flexible for multiple styles of company use (i.e. knowledge base, company communications, announcements, etc.)
Pricing: $20/mo
Choose Your Own Community Adventure
If you're just starting out, what's grabbing your interest? Or if you're running a private community already, where are you hosting it? I'd love to hear from you in the discussion linked below.