Discourse 3.0 is Here!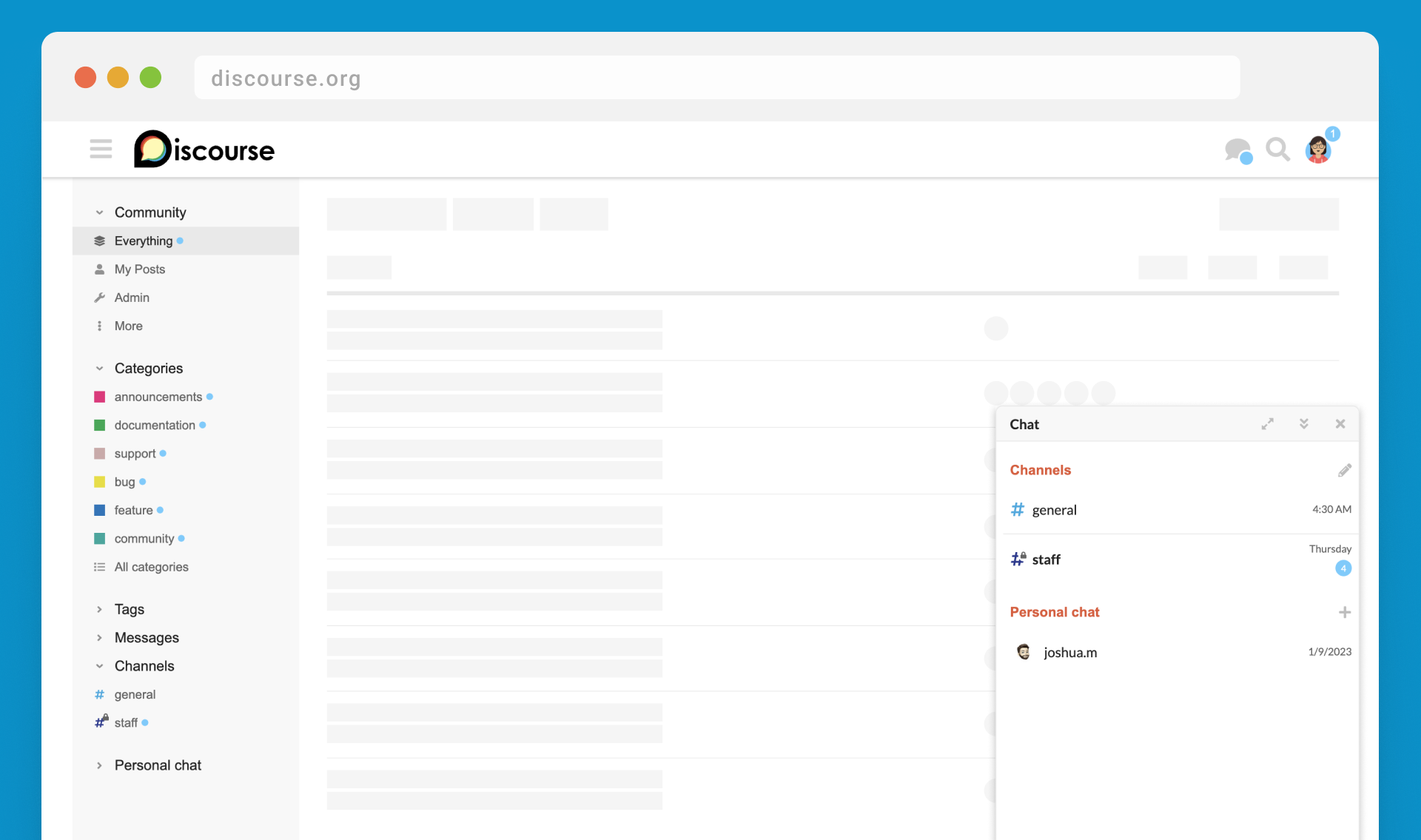 Today, we're excited to announce the release of Discourse 3.0! We are bringing our customers and users some major new capabilities to enable communities to have thoughtful, purposeful discussions online. This new release includes real-time chat and user status to enable more informal communication, a customizable sidebar for easier access to the things each user cares about most, and a new notifications interface that makes it easier to decide what is important to follow up on, along with many other improvements.
With this release we are also celebrating 9 years since Discourse 1.0, when we set out to build a platform for civilized discourse to enable communities to raise the quality of conversations on the Internet. As we approach a decade in our journey, our desire to improve Discourse for diverse communities of all sizes is stronger than ever and we look forward to continuing to evolve with you for the next decade!
🤩
Sign up
to join us on January 24th @ 10am PST to hear more about this release and see a live demo.
It's never been easier to start your next community
We've added a new setup wizard to let you quickly get started, with easy toggles to configure some of the most important features right away.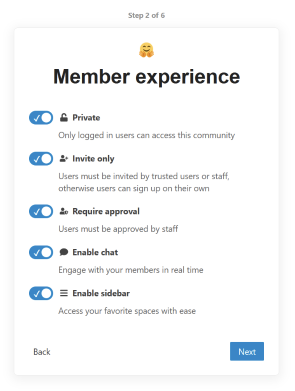 As the most open, powerful community platform out there, Discourse can be configured extensively with built in site settings and extended with plugins, themes and other integrations, but there's no need to dig into all those details immediately.
So, whether you're looking for an easy way to create a space for your group or club to communicate online, or are a community builder who wants to explore what your next community might look like, it's never been easier to spin up a trial for yourself and group to explore the possibilities together.
Start a 100% free trial on any plan, including our new Basic plan for small, private communities. Discourse is open source, so hosting it yourself is also always an option.
Chat inside Discourse, Discourse inside Chat 💬
Discourse now includes real time chat, with channels site admins can create for community members to hang out in to have informal discussions.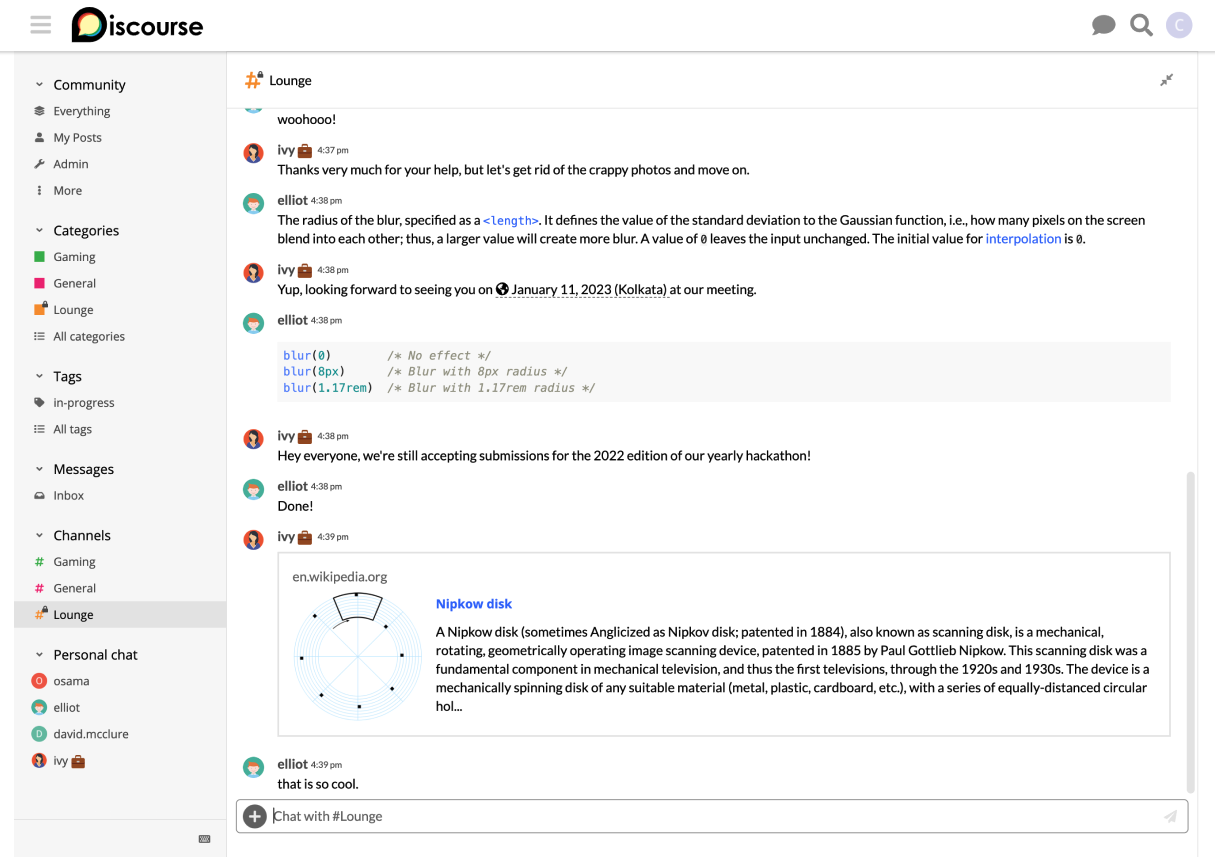 Our goal is to empower communities with an integrated experience as conversations shift between faster-paced chat and slower-paced discussions. When ideas are sparked that belong in a more discoverable place, chat messages can be quoted in topics where the discussion can continue over time and allow people in different times and places to join in later.
Easily access what you care about most with the new Sidebar
Our new sidebar allows community members greater control over their experience. Each member can now add categories, tags, and chat channels to their sidebar that they want to follow and access more easily.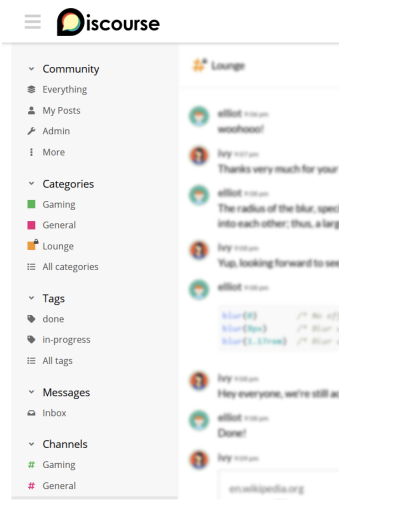 Admins can configure defaults for visitors and new members, and everyone can still see all the latest discussions on the main page. While we believe this shared view of everything is an important aspect of establishing a common experience for communities, it's also important for each user to have an easy way to stay on top of what is most important to them in particular.
The new sidebar has a Community section for quick access to commonly frequented links, and additional sections to allow every user to track their own favorite categories, tags, messages, channels and chat messages, with more options to customize things on the way.
Share your current status with the community
The new User Status feature allows users to set a custom status emoji and message that is displayed across the app. Once set, the message will be shown next to your avatar on posts, in chat, and on your user card so you can let everyone know you're  🧠 in deep focus mode,  🌴on vacation , or 🙂 how you're currently feeling.
To try it out, admins can update the `enable user status` site setting.
Catch up whenever you want with the new Notifications menu!
The new notifications menu makes it easier to decide which notifications deserve your attention now and which ones can be dismissed or be saved for later. We now offer tabs for each type of notification so when you're looking for a recent reply but have gotten a few more recent likes and mentions, you can find them easily without navigating away from the current page.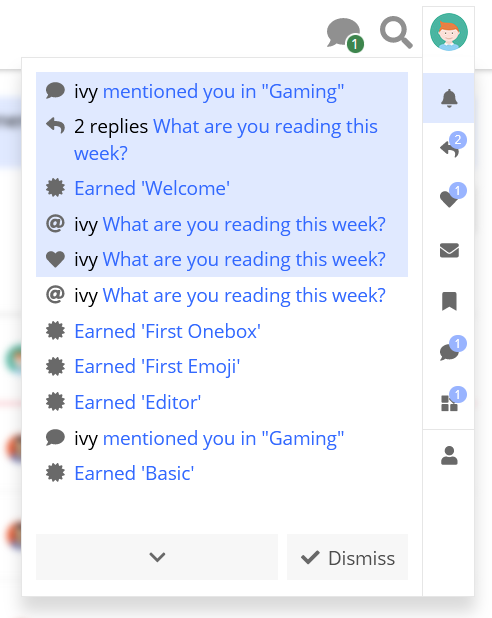 At a glance, you can now see what's waiting for you as counts for different types of unread notifications are shown on each vertical tab. Dismiss a subset of notifications on a given tab when you want to clear one out but still want to follow up on the others.
Help new members learn their way around with user tips
As new members join your community, they'll be introduced to Discourse with user tips to show them a few of the most important features as they encounter them for the first time.

User tips now exist for the first notification, to explain the topic timeline, post menu, topic notification levels and the suggested topics feature.
Wait! There's more!
It wouldn't be a true Discourse release if it wasn't full of exciting enhancements and additions that would be impossible to list entirely. That said, here are some Discourse 3.0 highlights we couldn't miss:
We gave the hashtag-system a huge makeover. With the introduction of Chat, we wanted to make it easier to mention channels, categories and tags by name. Whether chat is enabled or not, everyone will benefit from the improvements.

You can now configure which groups can whisper in topics to privately communicate within a topic. Historically, whispers were a staff-only feature, but they've proven to be a great way for trusted members to coordinate in the context of an existing discussion, so we wanted to make it possible for you to include which groups can participate in these conversations.

We improved the Instant Search UI in the site header to help you find what they're looking for even faster. Search now supports finding users and topics in specific categories by adding support for "#" and "in:" filters so you rarely have to navigate away to the Advanced Search page for targeted results.

Behind the scenes, we've upgraded the open-source tooling Discourse is built on. Highlights include Ruby 3.1, Rails 7 and Ember 3.28 with Ember CLI. These updates, along with improvements to Discourse's own APIs, pave the way for our community of theme and plugin developers to further customize Discourse in exciting new ways.

We've added general polish to Discourse through more helpful error pages, an improved page loading spinner, new splash screen animation and faster image preloads using a dominant color preview algorithm.

Finally, we couldn't miss that we also improved Dark mode (with email and category logo support), further improved our collection of plugins, released the awesome Table Builder theme-component, added a new `subcategories with featured topics` page style plus new site settings to require email change confirmation, the ability to set a default composer category and default badges.

If you still want a full list of all the bells and whistles we've added to Discourse 3.0, view the change logs for every beta leading up to this release – or see the full release notes at releases - Discourse Meta.
How to get Discourse 3.0
If you are on our hosting, you're already on 3.0! Search for "sidebar" and "chat" in your admin settings to enable and configure them. Your members will then be able to personalize their chat and sidebar experience via their preferences.  
If you're self-hosted, upgrading is as easy as clicking the Update button linked from the admin dashboard. Regular updates are highly recommended as part of our security policy.
Don't have a Discourse site yet?
Interested in starting a new Discourse community or switching from another platform? Spin up a free 14-day trial. No credit card is required.
We can't forget to thank you
Last but not least, a massive round of thanks to our hosted customers. It's an honor to partner with you and build Discourse together, out in the open and for all the world to see. We hope that you often have interactions on your Discourse sites that make your day easier and just a bit brighter.
As always, Discourse also relies on its helpful contributors to be a healthy, functioning open source project! Our sincerest thanks for code contributions in this release from:
ghassanmas, angusmcleod, Gavin-X, wagenet, rr-it, dgeb, benlangfeld, darkpixlz, yaki-imo, qnxor, nathan-nz, noahgibbs, ermolaev, dujiajun, communiteq, Wolftallemo, Firefishy, Canapin, sosedoff, ryantm richterzo, renato, pirj, pfaffman, mayfieldivjayeff, geckolinux, frank3manuel, emmanuel-ferdman,  TLischkaRemerge, MaximeD, yanquisalexander, westnordost, ttstarck, tnoor-co, timmsantos, thess, supercobra, stweil, skynavga, sergeimellow, sansnumero, sabajamalian, rvanasa, rolandkoller, renatolond, pierreozoux, omahs, oakcask, not-a-ethan, n-rodriguez, msafi, mpucholblasco, mdoggydog, kuro282, kees-closed, kayn1, kaden-stytch, jrgong420, jeremyevans, j3soon, hwangist, hierocles, hellcp, geoffharcourt, dlowe, deronnax, d521bb85, cquest, clupprich, budnik, bkmgit, benzimmer, bcharna, bbxiao1, ariznaf, abdellani, XScorpion2, VaperinaDEV, ValdikSS, MartyLim, Mar0xy, IAmSilK, GaurangTandon, Fma965, FelipeGdM, CommanderRoot, CleverSausages, ByteHamster, 1resu
Many thanks to the translators who generously contributed their time and effort translating Discourse into so many languages for this release. In this release, and for all future releases, we've added a round of professional translation on top of those efforts to make sure all our translations are of the highest quality.

Finally, we would also like to thank every meta.discourse.org user for the time they have spent talking to us. We've come so far since version 1.0 in 2014, and we're excited to keep moving forward with new features and improvements! To see what's cooking for future versions of Discourse, create an account on meta.discourse.org and track the releases category  — so we'll get there together!

Here's to the next decade of online Discourse with you 🍻

ℹ️ As we've chosen a new set of codenames based on the history of human communication for post-2.0 releases, Discourse 3.0 (Nipkow) represents the invention of the Nipkow disk 💽