Discourse Gives Back: 2022 Edition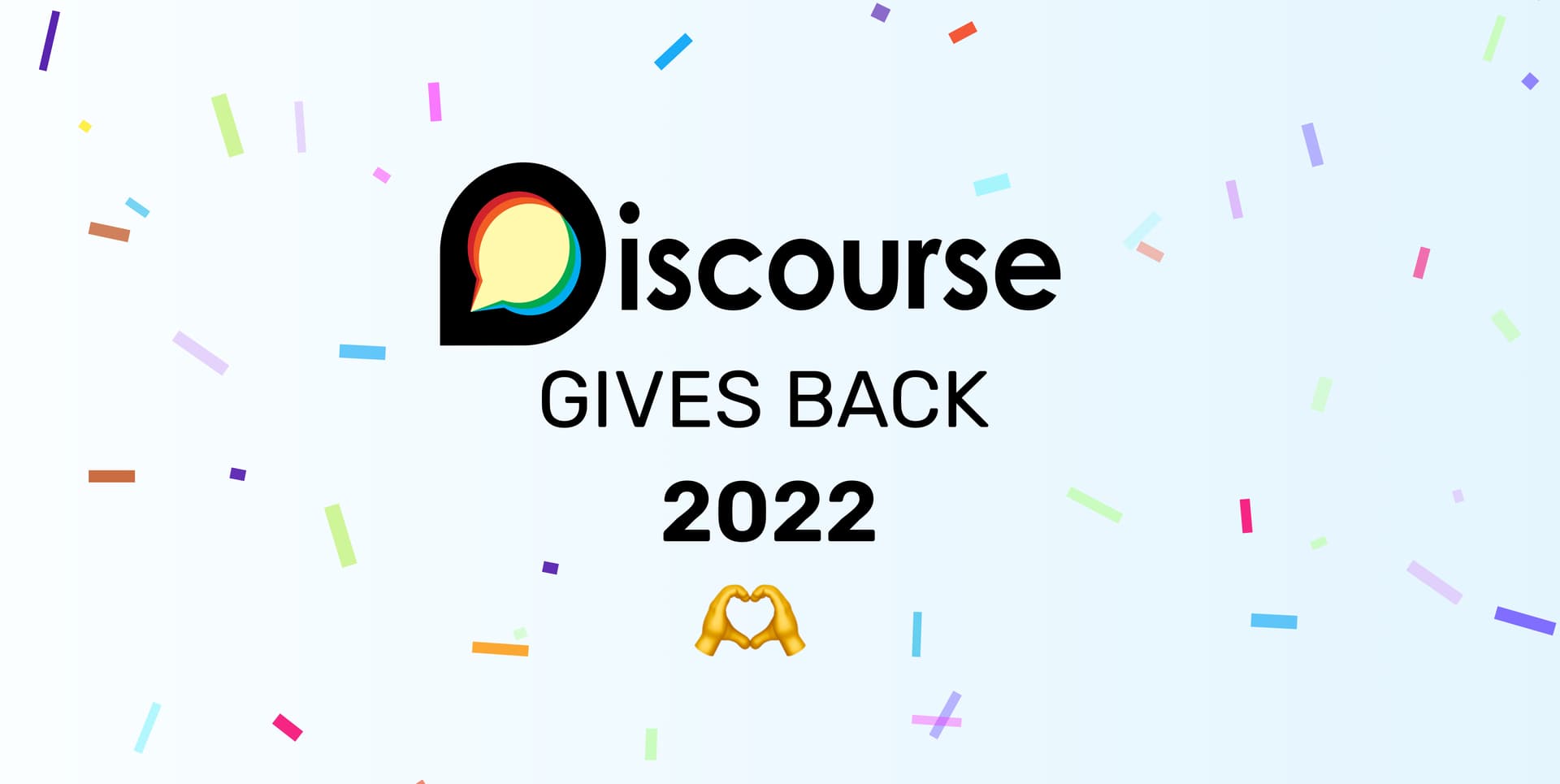 This past year we saw a lot of growth at Discourse. We added over 20 people to our team, and we worked hard to release a chat feature that was a huge step in allowing short, casual conversations without a third party plugin. We also worked towards releasing Discourse 3.0 early in 2023, and we couldn't have done it without people who believe in what we do.  
A great year is only made better by giving back.
In our commitment to give back we have continued to earmark funds to contribute directly to projects and individuals we rely on as well as giving back to technology related causes that we believe in and wish to sponsor. As an open source project ourselves, naturally we believe in the power of open source software.
Here is a breakdown of what we gave in 2022:
Let's Encrypt $5,000 – Widespread and pervasive encryption helps the web become more resilient and resistant to tampering. Let's Encrypt provides free-for-everyone SSL certificates for all our hosted Discourse instances. Let's Encrypt plays a core role in keeping Discourse sites everywhere secure. They now protect over 260 million websites and continue to make the web a safer place for everyone. We continue to support their cause with a free Enterprise hosted instance for Let's Encrypt support in addition to our yearly financial donations.
Ruby Central $5,000 – Ruby Central is a non-profit organization dedicated to Ruby support and advocacy of the worldwide Ruby community. Discourse is a Ruby on Rails app, so Ruby's continued growth is essential to delivering a fast, reliable community platform to all of our customers.
Postgres $5,000 – Discourse's primary data storage is the open source Postgres database, which has outstanding performance, proven itself extremely reliable, and generally been fantastic to work with.
Rubocop $2,500 – As our team and list of contributors grows, one of the ways we ensure the Discourse codebase follows a consistent convention is by using linters and formatters. On the Ruby side of the app, that's RuboCop. In addition to enforcing formatting and coding conventions, RuboCop also helps automatically fix some of these issues to make our contributors' lives easier.
Markdown it! $24,000 - Markdown has been fundamental to what we do since the very first days of Discourse in 2012.  We've been using Markdown it for the past 5 years and we were happy to support the development and maintenance of this library in 2022.
EFF $5,000 – Discourse is a project that is fundamentally about communities truly owning their own spaces online, rather than temporarily renting space from a giant corporation. Some might call that freedom. The Electronic Frontier Foundation fights for everyone's digital freedom and we're proud to continue supporting them in 2022.
Internet Archive $5,000 – Many of the design decisions in Discourse revolve around retaining digital history, such as automatically downloading topic images so they aren't lost via web rot over time. There is no single organization working to provide a collective memory for the web quite like The Internet Archive; we believe future generations will look back on their work with immense gratitude.
Doctors without Borders –  $10,000 Their teams provide free, emergency medical care in conflict zones, natural disasters and epidemics
Kyiv School of Economics aid fund – $10,000 This humanitarian aid campaign for Ukraine. The aim of the Kyiv School of Economics aid fund is to provide food supplies, transportation, refugees help for Ukrainian citizens affected by the war.
Book Aid International $2,500 Literacy is fundamental to Discourse. Being skilled at reading and writing is also a requirement for getting ahead in the professional world. We believe the work Book Aid International is doing can have a big impact on lives.

While it's not a direct donation per se, we have also paid out an additional $6912 in Hacker One bounties for valid security issues between 2022 and 2023 that ethical hackers have reported to us -- a special thanks for your efforts in keeping Discourse safe and secure (and free!) for everyone.

The Internet is built on the work of so many open source projects, and they could all use your support. Maybe you're in a position where you or your company can support one or more open source projects. Please do so!